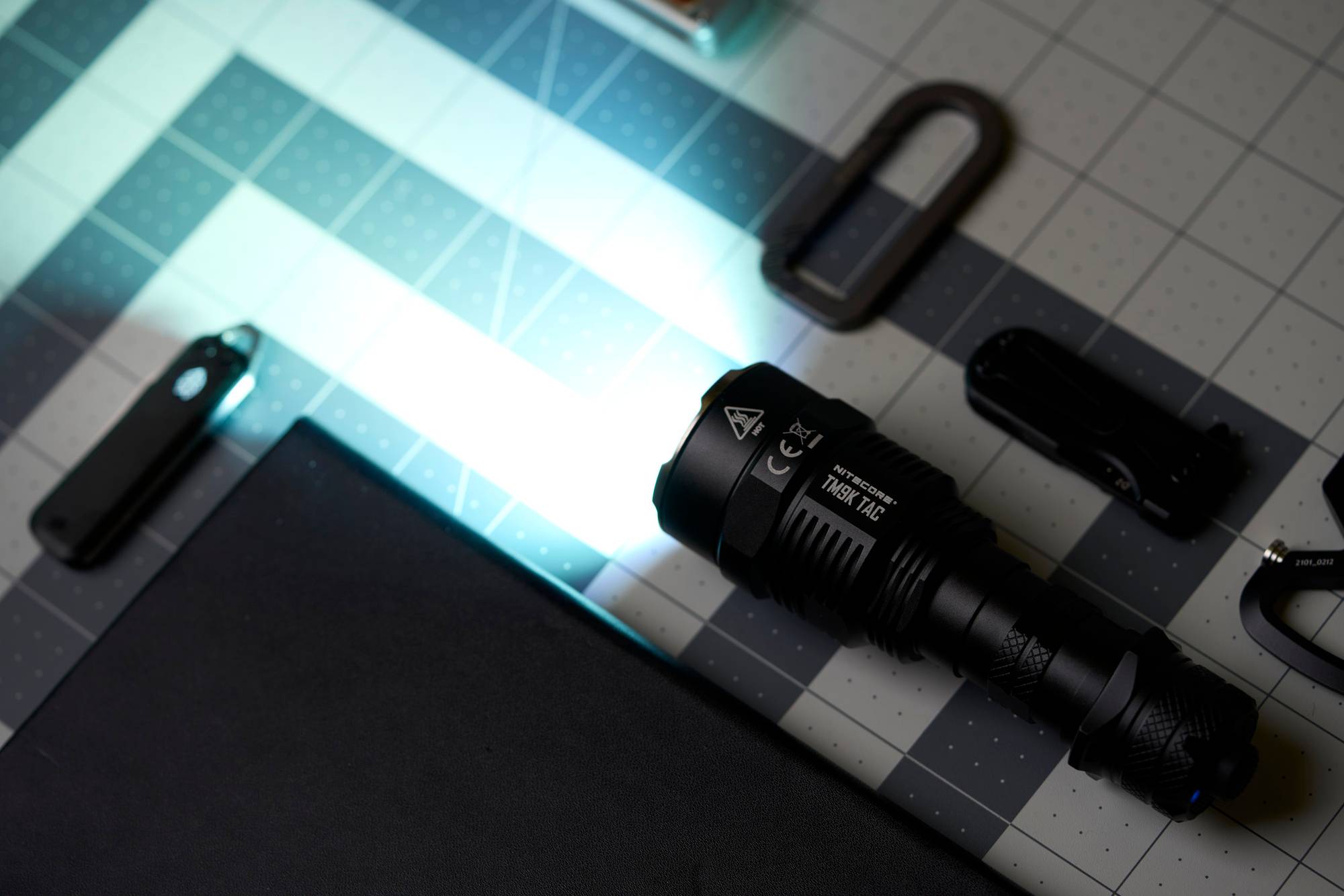 The Power of the Sun in your Pocket
TM9K TAC 9800 Lumen USB-C Rechargeable Flashlight
Email Me When Available
Item no longer available
Finish selections for price & availability
Free shipping over $100 USD to the US, $150 CAD to Canada, $600 USD to the rest of the world
NiteCore
TM9K TAC 9800 Lumen USB-C Rechargeable Flashlight
The Power of the Sun in your Pocket
Email Me When Available
Item no longer available
Finish selections for price & availability
Free shipping over $100 USD to the US, $150 CAD to Canada, $600 USD to the rest of the world
Sometimes you need a little bit of extra light on your evening walk, and sometimes you want the power to turn night into day. That's where this 9800 lumen beast of a flashlight comes into play. Nitecore's TM9K TAC is a heavy duty tactical flashlight that sports not just one or two measlyLEDs, but nine XP-L2 emitters from CREE that'll output an insane amount of light in a relatively small footprint. This is a light that should be in your bag on your next camping trip, hanging out in your car's trunk in case of emergencies, or kept around the house for when the power goes out.
Measuring in at just under five inches long, 1.57" wide, and 1.1" in height, the TM9K TAC is surprisingly carryable. Weighing in at just 7.71oz, the light won't weigh you down too much either. Inside the light, there's an integrated 5000mAh Li-ion battery that you can recharge via the included USB-C cable. Six lighting modes range from an ultra low 30 lumens, all the way up to 9800 lumens on turbo with an optional high output strobe. The Nitecore TM9K can throw light up to 306 yards, capable of illuminating objects over three football fields away. Operation is easy, thanks to the dual function tail switch that can be tapped for an instant momentary burst of light, or clicked down for continuous illumination.
Materials:
Body: Aluminum Alloy
Dimensions:
Length: 4.92"
Width: 1.57"
Weight: 7.71oz
Max output of 9800 lumens
OLED display
5 brightness levels
USB rechargeable built-in Li-ion battery
About Nitecore
With a wide range of lighting tools, Nitecore has been innovating in the space for over 14 years. With a focus on utility and features at reasonable price points, there's a Nitecore light for every application. With several design awards under their belt, Nitecore's flashlights are designed for every application, from tactical to practical. Compact designs from the brand are capable of producing blindingly-bright light, ideal for hiking, making roadside fixes, or something as mundane as taking out the trash at night.
Viewing:
TM9K TAC 9800 Lumen USB-C Rechargeable Flashlight