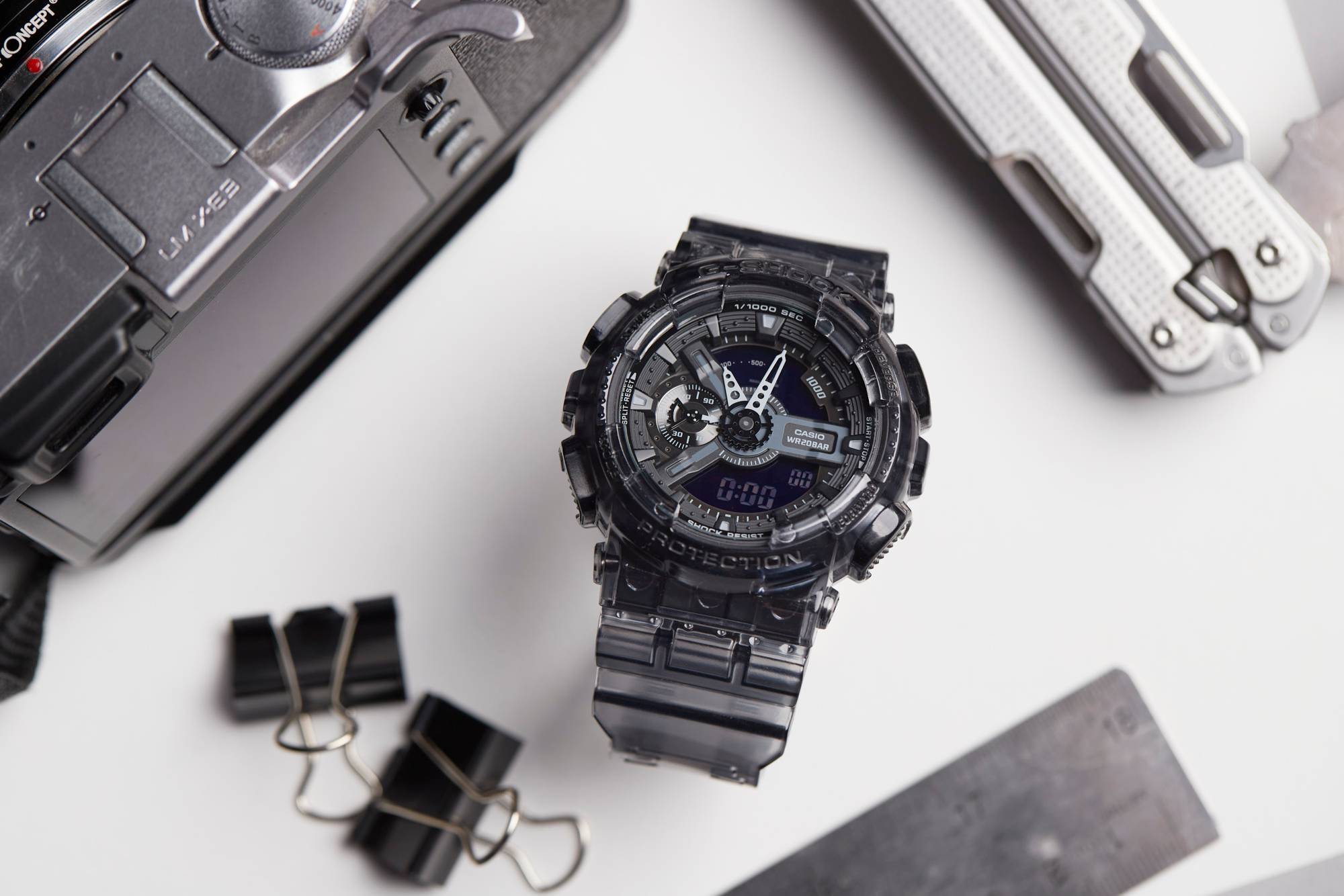 A rugged G-Shock meant for high speeds
GA110
Email Me When Available
Item no longer available
Finish selections for price & availability
Free shipping over $100 USD to the US, $150 CAD to Canada, $600 USD to the rest of the world
G-Shock
GA110
A rugged G-Shock meant for high speeds
Email Me When Available
Item no longer available
Finish selections for price & availability
Free shipping over $100 USD to the US, $150 CAD to Canada, $600 USD to the rest of the world
Sometimes you want a watch that makes a statement, and with a case width of 51.2mm, a lug-to-lug of 55mm, and 16.9mm in height, there's no overlooking the GA110. The GA110 is one of G-SHOCK's unabashedly large watches. It's big, bold, and proud of it. This hulk of a watch is packed with some interesting features that are sure to get your attention.
Four tactile buttons surround the case, making it quick and easy to operate the watch. The dial blends analog and digital elements into an aggressive, futuristic aesthetic. A perforated handset points to the time, while a digital readout on the bottom takes care of the other timing functions. At nine o'clock, a small sub-dial with an arrow hand works in conjunction with the stopwatch feature to calculate speed — an interesting replacement for a traditional tachymeter. The case is both magnetism- and water-resistant to 200m. 
In addition to the analog time display, the watch has several useful digital features that will come in handy day-to-day. There's a stopwatch, countdown timer, world time mode, and five programmable alarms. What really stands out is the stopwatch's ability to calculate speed. Once you program a specified distance, start the stopwatch, time your interval, and when stopped, the small sub dial will point to the average speed. 
G-SHOCK Watches ship to the USA only.


Case: Resin
Dial: Ana-digi
Module: 5146
Features: Speed Calculation, World time, 1/1000 sec Stopwatch, Countdown Timer, 5 Daily Alarms, Full-Auto Calendar (to 2099)
Lens: Mineral
Strap: Resin
Water Res.: 200M
Dimensions: 51.2 x 55mm
Thickness: 16.9mm
Weight: 72g
SKU: GA110SKE-8A
Warranty: One Year Limited
About G-Shock
G-SHOCK was born from a simple idea — a watch should not break when dropped. Back in 1983, the original square-shaped DW-5000C was created after Kikuo Ibe witnessed a child bouncing a rubber ball. It struck him that a watch floating within a rubber case would be impervious to shocks. After a bunch of testing and design with toughness in mind, the brand was born. Nearly 35 years and hundreds of models later, G-SHOCK is still best known for being some of the toughest, hard-wearing watches that money can buy.