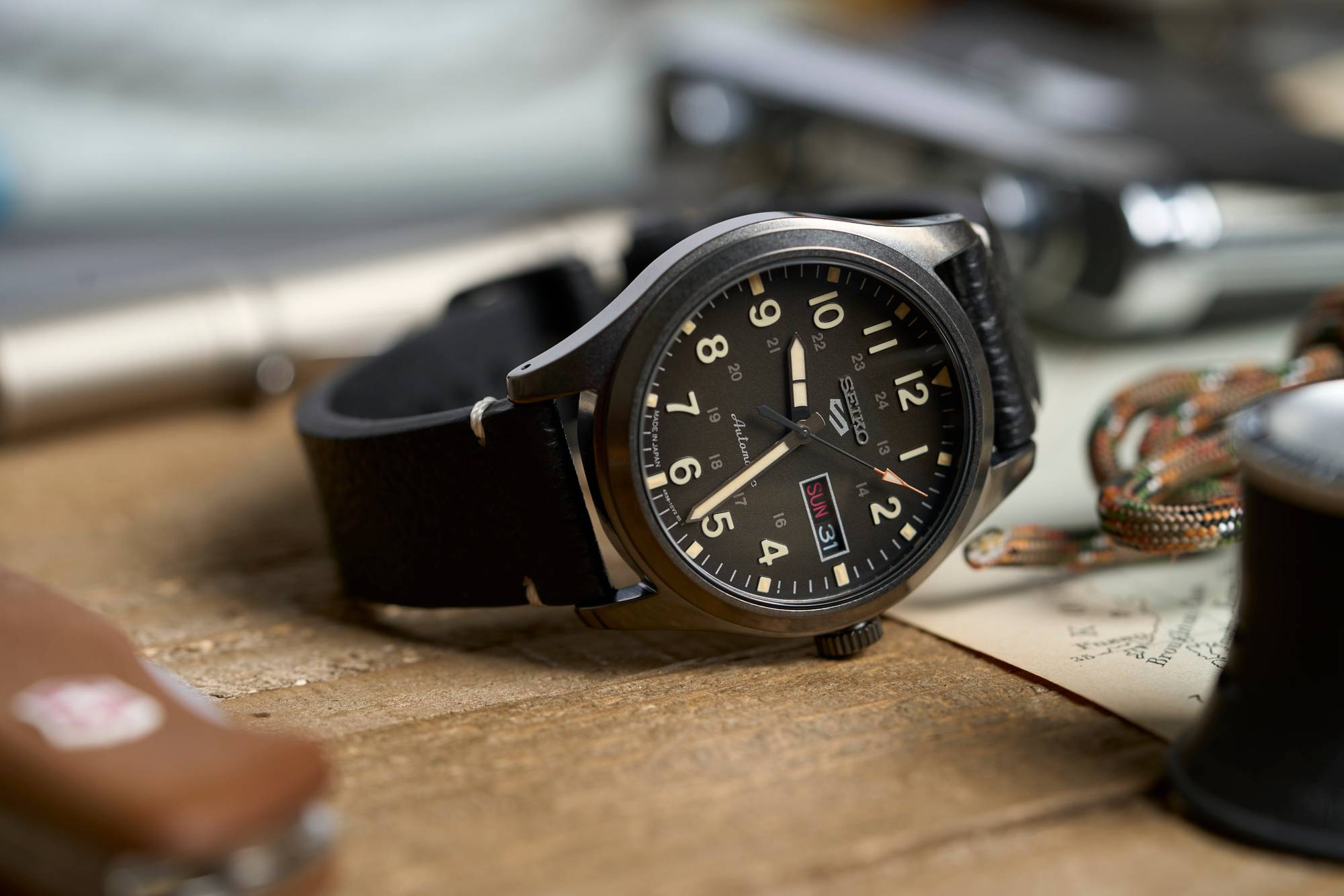 The Seiko "5" Lineup Gets The Field Watch Treatment
Seiko 5 Sports Field Collection
Email Me When Available
Item no longer available
Finish selections for price & availability
Free shipping over $100 USD to the US, $150 CAD to Canada, $600 USD to the rest of the world
Seiko 5 Sports
Seiko 5 Sports Field Collection
The Seiko "5" Lineup Gets The Field Watch Treatment
Email Me When Available
Item no longer available
Finish selections for price & availability
Free shipping over $100 USD to the US, $150 CAD to Canada, $600 USD to the rest of the world
An update to Seiko's "5" lineup of watches, these new classic field watch-inspired designs represent a lot of bang for your buck. To be a part of Seiko's "5" lineup, a watch must include five key traits: an automatic movement, a day/date window, ample water resistance, a recessed crown, and a case and bracelet built for durability. These entrants in the Seiko 5 lineup feature a classic field watch design with a legible dial with 12- and 24-hour scales, and a set of contrasting pencil hands. Whether you're just starting your horological journey, or simply need a field watch in your collection, you can't go wrong with these examples from Seiko.
With a diameter of 39.4mm and a lug-to-lug length of 48.1mm, the SRPGs feature a "just right" case size that most will find comfortable and excellently proportioned on the wrist. The 13.2mm thickness is broken up evenly between the smooth bezel, gently curved mid-case, and a screw-down case back. Protecting the dial is a crystal made from Seiko's own "Hardlex" -- a proprietary glass that's resistant to shattering and scratches. You'll appreciate the attention to detail on the dial like the applied Seiko 5 logo and luminescent markers, numerals, and hands. A display case back shows off the movement inside, giving you a great view of the rotor and escapement of the watch in action.
Beating away inside the watch at 21,600bph is Seiko's 4R36 automatic winding movement. Powered by the movement of your wrist, the rotor will wind up the movement keeping it running for approximately 41 hours between wearings. Within the movement itself, there are 23 jewels keeping things running smoothly. This movement has the ability to be hand-wound, and features hacking seconds for accurate time setting and tracks a day/date display.
Case: Stainless Steel
Dial: Black
Movement: Caliber 4R36
Lens: Curved Hardlex
Strap: Tan Nylon
Water Res.: 100M
Diameter: 39.4mm
Length: 48.1mm
Thickness: 13.2mm
Lug Width: 20mm
Ref Number: SRPG35
Warranty: Three Years
Case: Stainless Steel
Dial: Green
Movement: Caliber 4R36
Lens: Curved Hardlex
Strap: Green Nylon
Water Res.: 100M
Diameter: 39.4mm
Length: 48.1mm
Thickness: 13.2mm
Lug Width: 20mm
Ref Number: SRPG33
Warranty: Three Years
Case: Stainless Steel
Dial: Black
Movement: Caliber 4R36
Lens: Curved Hardlex
Strap: Stainless Steel Bracelet
Water Res.: 100M
Diameter: 39.4mm
Length: 48.1mm
Thickness: 13.2mm
Lug Width: 20mm
Ref Number: SRPG27
Warranty: Three Years
Case: Stainless Steel
Dial: Black
Movement: Caliber 4R36
Lens: Curved Hardlex
Strap: Black Nylon
Water Res.: 100M
Diameter: 39.4mm
Length: 48.1mm
Thickness: 13.2mm
Lug Width: 20mm
Ref Number: SRPG37
Warranty: Three Years
Case: Stainless Steel
Dial: Blue
Movement: Caliber 4R36
Lens: Curved Hardlex
Strap: Stainless Steel Bracelet
Water Res.: 100M
Diameter: 39.4mm
Length: 48.1mm
Thickness: 13.2mm
Lug Width: 20mm
Ref Number: SRPG29
Warranty: Three Years
Case: Stainless Steel
Dial: Blue
Movement: Caliber 4R36
Lens: Curved Hardlex
Strap: Black Calfskin
Water Res.: 100M
Diameter: 39.4mm
Length: 48.1mm
Thickness: 13.2mm
Lug Width: 20mm
Ref Number: SRPG39
Warranty: Three Years
Case: Stainless Steel
Dial: Gray
Movement: Caliber 4R36
Lens: Curved Hardlex
Strap: Gray Nylon
Water Res.: 100M
Diameter: 39.4mm
Length: 48.1mm
Thickness: 13.2mm
Lug Width: 20mm
Ref Number: SRPG31
Warranty: Three Years
Case: IP Plated Stainless Steel
Dial: Black
Movement: Caliber 4R36
Lens: Curved Hardlex
Strap: Black Calfskin
Water Res.: 100M
Diameter: 39.4mm
Length: 48.1mm
Thickness: 13.2mm
Lug Width: 20mm
Ref Number: SRPG41
Warranty: Three Years
About Seiko
Launched in 1963, the Seiko 5 was Seiko's first automatic watch with a day-date function. The "5" in the name stands for five key elements every Seiko 5 would feature - an automatic movement, day-date display at the three o'clock position, water resistance, a recessed crown at the four o'clock position, and a case and bracelet built for durability. Flash forward to today and Seiko has released a diverse range of new Seiko 5 Sports watches, designed to fit any style, all of which feature the 5 key elements first outlined in the 1960s. An automatic movement Day-date display at the three o'clock position Water resistance Recessed crown at the four o'clock position And a case and bracelet built for durability
Viewing:
Seiko 5 Sports Field Collection