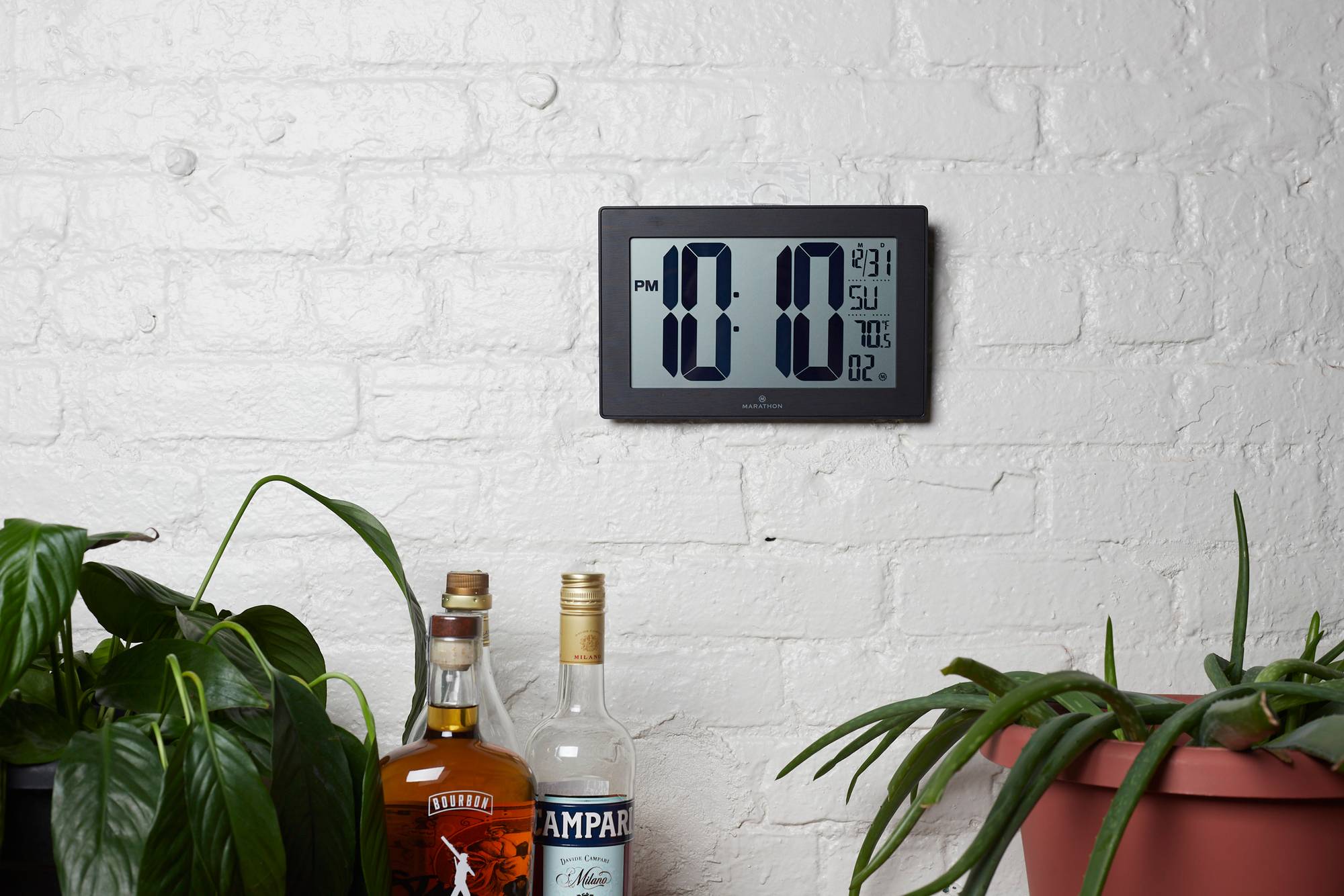 A self-setting and adjusting Atomic Digital clock
Atomic Digital Clock with Stand
Email Me When Available
Item no longer available
Finish selections for price & availability
Free shipping over $100 USD to the US, $150 CAD to Canada, $600 USD to the rest of the world
Marathon
Atomic Digital Clock with Stand
A self-setting and adjusting Atomic Digital clock
Email Me When Available
Item no longer available
Finish selections for price & availability
Free shipping over $100 USD to the US, $150 CAD to Canada, $600 USD to the rest of the world
Welcome to your homebase. The Marathon Atomic Digital Clock features a large, crystal-clear, high-contrast LCD with huge numerals for easy reading, even from across the room. On the right side of the display, you'll find the day, date, month, and temperature - everything you need. The clock also features a convenient kickstand on the back, should you want it on table, rather than the wall.
For those in North America, Atomic time is received via radio signal, auto-setting and adjusting the clock. Need a reference for setting your watches? This is it.
Large Display: Easy to read 4″ high display
Self-setting/Adjusting: Using radio frequencies broadcast from NIST's Colorado Atomic Clock. (Atomic feature only functions in North America)
Multiple Display Modes: 12 or 24 Hour Display Formats with Indoor Temperature Display in Celsius or Fahrenheit
8 Time Zones: A Marathon exclusive, choose between PST, MST, CST, EST, AST, NST, HST & AKST with option to turn on or off Daylight Savings Time
Batteries Included: 2 AA long life batteries included
Dimensions: 9.5" x 6.25" x 1"
About Marathon
Founded in 1939, Marathon Watches of Canada is a family owned company, currently in its fourth generation. Known for their military issued watches, dating back to 1941, today's Marathon is still a major supplier of mil-spec timepieces to the US Armed forces. Designed in Canada, but made in Switzerland at Marathon's own factory in La Chaux de Fonds, their field, pilot, and dive watches are made to the exacting standards of the military.
Viewing:
Atomic Digital Clock with Stand