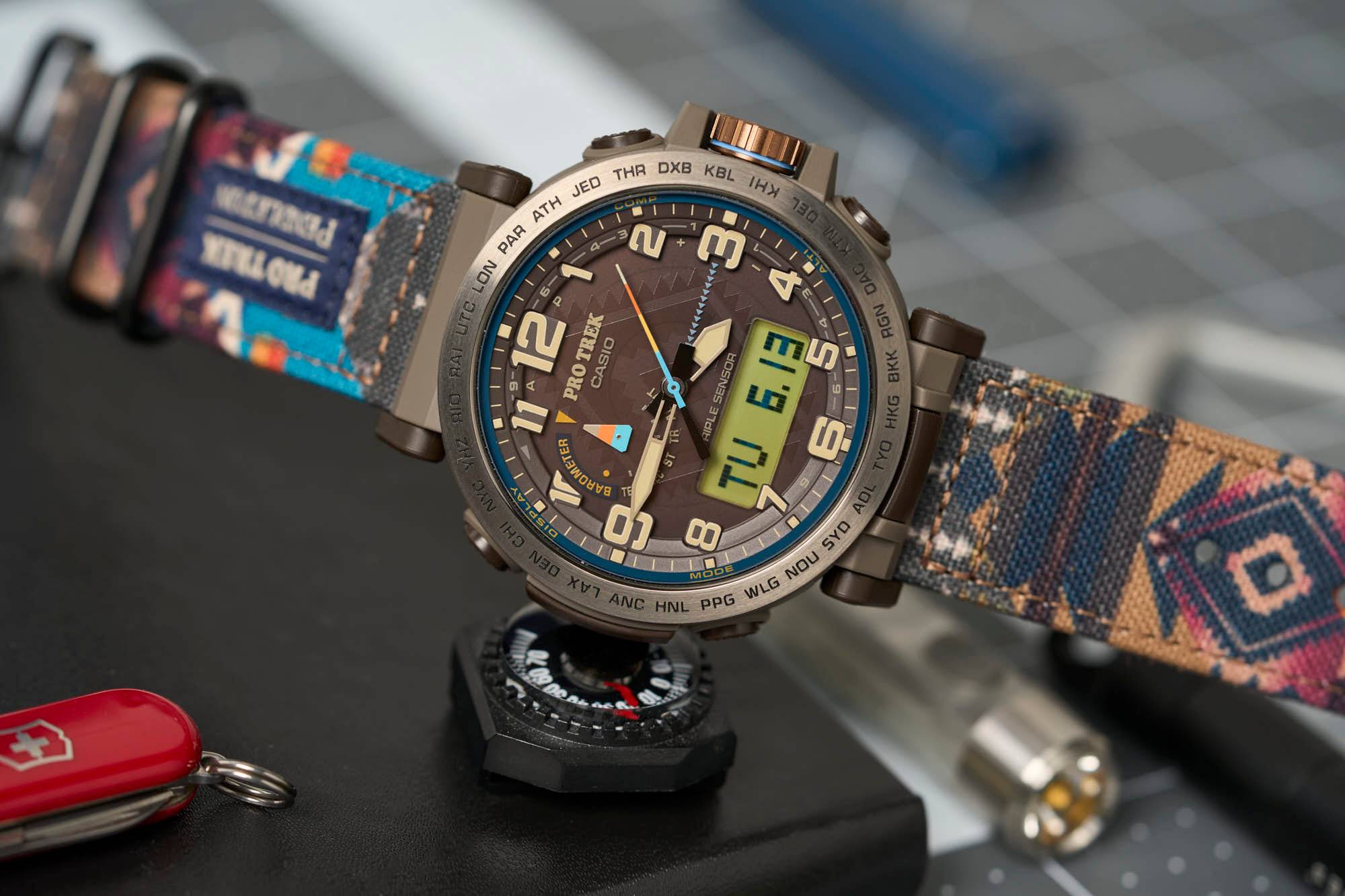 A meeting between nature and wristwear!
PRO TREK x PENDLETON
Email Me When Available
Item no longer available
Finish selections for price & availability
Free International Shipping
Casio
PRO TREK x PENDLETON
A meeting between nature and wristwear!
Email Me When Available
Item no longer available
Finish selections for price & availability
Free International Shipping
The PRO TREK x PENDLETON ships within a week after purchase.
Introduce a touch of originality and style to your daily routine with a collaboration that seamlessly blends the renowned woolens of PENDLETON with the authentic Casio PRO TREK outdoor gear, specifically designed for nature enthusiasts. This remarkable collaboration manifests in a timepiece that transcends the ordinary, elevating your wristwear to a whole new level.

There is the allure of the PRG601PE-5's cloth band, meticulously inspired by the exquisite PENDLETON X4 pattern. The band boasts warm and natural colors, exuding an organic charm that resonates harmoniously with the surrounding environment. Crafted with materials carefully selected to minimize environmental impact, this special model epitomizes the shared commitment of both brands to the preservation of nature's beauty.

Moving in to the dial, we find the small hand on the inset dial, positioned at the 10 o'clock mark, mimics the pattern found on the band. This thoughtful detail immerses you further into a world of nature-inspired aesthetics, where the essence of the landscape is effortlessly captured on your wrist. To celebrate the collaboration in its entirety, the distinguished PENDLETON logo is elegantly showcased on both the upper band and case back.

Beyond its stunning design, this watch is equipped with state-of-the-art functionality. The Triple Sensor technology empowers your wrist with the ability to effortlessly gather and display essential information such as direction, temperature, barometric pressure, and altitude. No matter where your adventures take you, these ultra-useful features work seamlessly, responding diligently to any challenge nature presents.

To ensure continuous timekeeping even in the most demanding terrains, the PRG601PE-5 harnesses the power of the Tough Solar charging system. Furthermore, with just a subtle tilt of the wrist, an exhilarating burst of high-brightness, full-auto double LED light illuminates your path, ensuring that every step of your journey is embraced with both sophistication and practicality.

Discover the captivating collaboration between PENDLETON and PRO TREK, meticulously crafted to infuse your days with originality, style, and an unwavering love for the natural world.
Casio Watches ship to the USA only.

Case: Bio-based Resin, Stainless Steel
Dial: Ana-Digi
Module: 5497
Features: Solar Powered, World Time, Stopwatch, Countdown Timer, Thermometer
Triple Sensor: Altimeter, Barometer/Thermometer, Digital Compass
Lens: Mineral
Strap: Cloth
Water Res.: 100 Meters
Dimension: 51.5mm x 51.6mm x 14.8mm
Ref Number: PRG601PE-5
About Casio
Casio is a brand name most people are familiar with. Founded in 1946 in Japan as Kashio Seisakujo and reestablished as Casio Computer Co., Ltd. in 1957 - they've made everything from the world's first all-electric calculator to synthesizers, cameras, and more. Of course, they are also famous for their watches, which include G-Shock, Pro Trek, Edifice, and other tech-forward brands. The Casio Vintage line, as the name suggests, celebrates their earliest digital timepieces. Always fun and irreverent, these fashionable watches are affordable and a great addition to one's watch box.
Viewing:
PRO TREK x PENDLETON