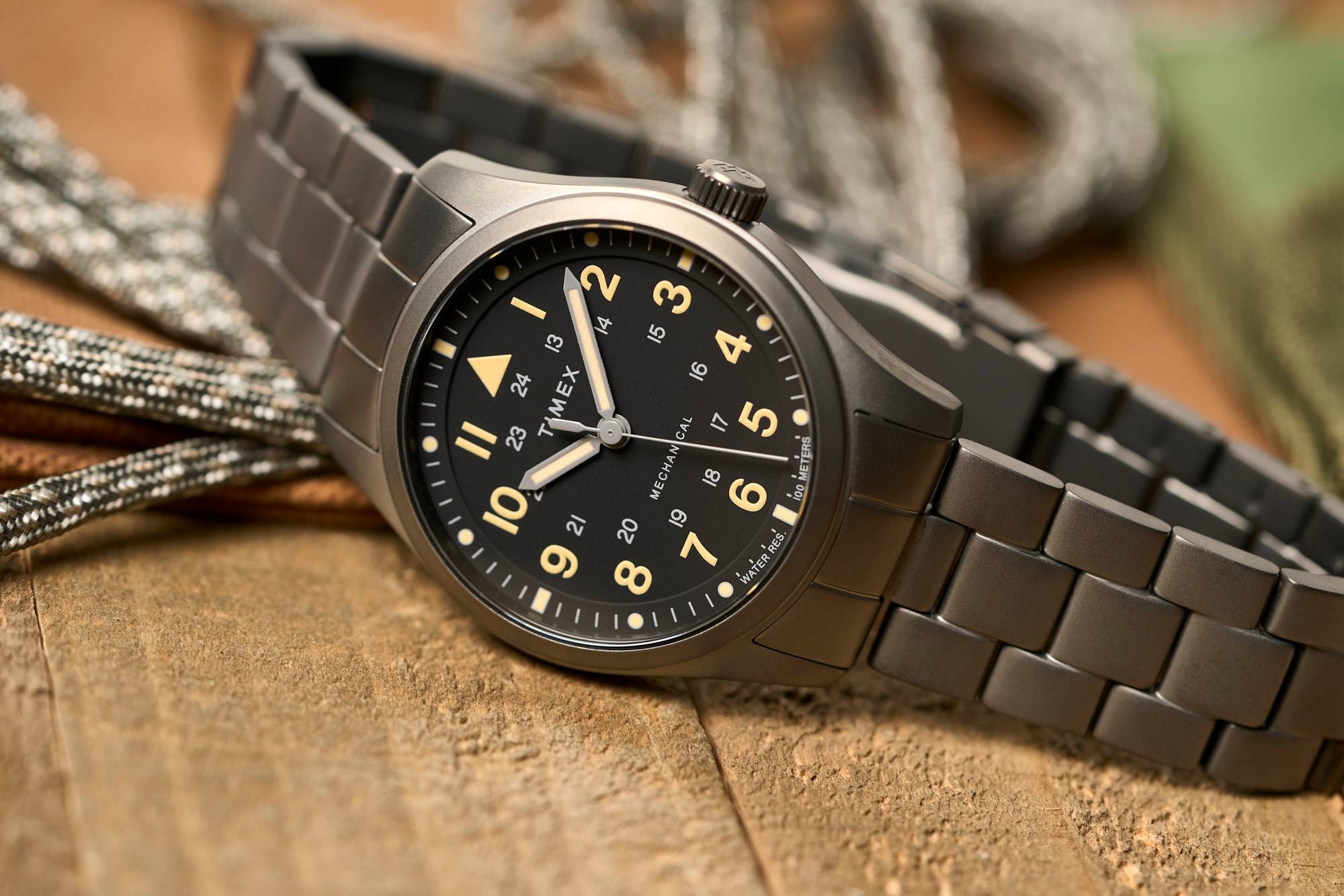 A Modern Field Watch with a Hand-Wound Movement
Expedition North Field Post Mechanical 38mm - Stainless Steel Bracelet
Email Me When Available
Item no longer available
Finish selections for price & availability
Free International Shipping
Timex
Expedition North Field Post Mechanical 38mm - Stainless Steel Bracelet
A Modern Field Watch with a Hand-Wound Movement
Email Me When Available
Item no longer available
Finish selections for price & availability
Free International Shipping
Timex understands that in modern times, field watches are meant for outdoor adventures. Rooted in military history, field watches are small, discreet watches that are meant to provide the time at a glance and survive harsh terrain. As such, as watches to take while out hiking, camping, biking, etc, they are a great option. The Expedition North Field Post Mechanical 38mm mixes high legibility and ease of wear with a classic hand-wound mechanical movement.
Featuring a classic 38mm case with 100m of water resistance, and a sapphire crystal (great at the price), the Expedition North Field Post Mechanical is everything a field watch should be. The bold dials have the charm of vintage military watches, but the boldness and clarity that are expected from a modern sports watch. Now available in a black dial with sandy numerals.
The version of the Expedition North Field Post Mechanical is also mounted to a 20mm  bracelet with a rugged build that will last through your adventures. And for those summer days, you can always change its look with a nylon strap.
Inside, you will find a hand-wound mechanical movement. Though automatic movements are always popular, the act of hand winding your watch is one that collectors will always revere.
Case: Matte Stainless Steel
Dial: Black
Movement: Hand-wound Mechanical
Lens: Sapphire
Strap: Stainless Steel
Water Res.: 100M
Diameter: 38mm
Thickness: 8.5mm
Lug Width: 20mm
SKU:TW2V41700JR
Warranty: One Year
About Timex
Founded in 1854 as the Waterbury Clock Company, Timex has a rich and significant history in the world of watches. A pioneer of innovation and technology, they have produced everything from trench watches for soldiers in WWI to the best-selling automatic of the '60s to the number one digital sports watch of the '80s. Their famous slogan "takes a licking and keeps on ticking" is also not just a motto for the brand, but philosophy as well. Timex watches are always designed with everyday people and everyday tasks in mind, whether it's going to work, taking the dog out for a walk, or taking your bike out for a long ride. Fun, functional, durable, and affordable, Timex is a brand that will get you into watches, and always have a place in your collection.
Viewing:
Expedition North Field Post Mechanical 38mm - Stainless Steel Bracelet