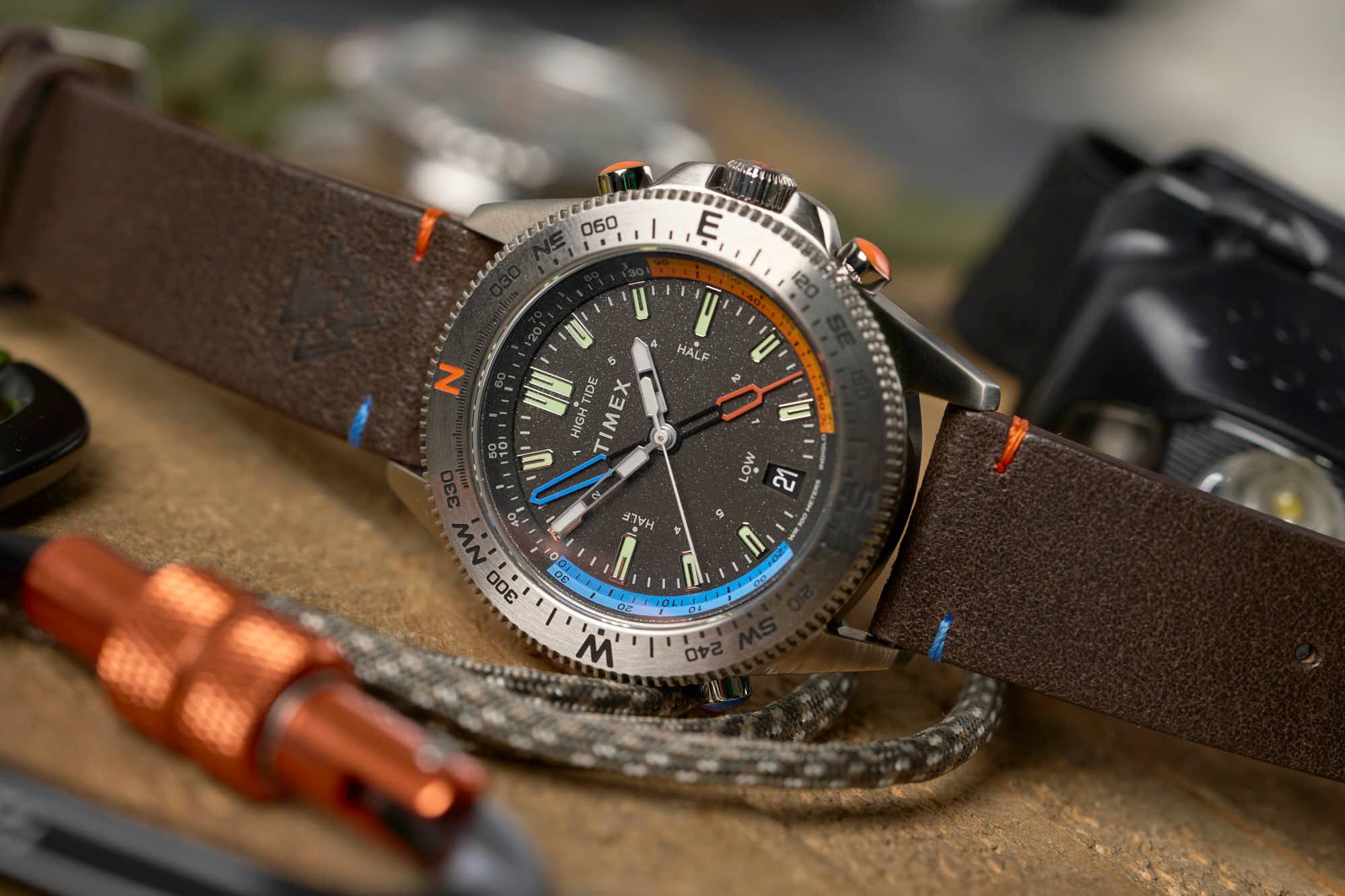 A Modern Field Watch with an Analog Compass
Expedition North® Tide-Temp-Compass 43mm
Email Me When Available
Item no longer available
Finish selections for price & availability
Free shipping over $100 USD to the US, $150 CAD to Canada, $600 USD to the rest of the world
Timex
Expedition North® Tide-Temp-Compass 43mm
A Modern Field Watch with an Analog Compass
Email Me When Available
Item no longer available
Finish selections for price & availability
Free shipping over $100 USD to the US, $150 CAD to Canada, $600 USD to the rest of the world
Discover the power of the Expedition North Tide-Temp-Compass 43mm watch by Timex. A remarkable timepiece designed for outdoor adventurers who crave both style and functionality. This rugged watch combines innovative features with a sleek design to provide an exceptional experience in any outdoor environment.

It features a robust 43mm case, with a compass bezel, that is constructed from stainless steel; ensuring longevity even in the most demanding outdoor activities. Whether you're camping in the wilderness, hiking through rugged terrain, or diving into the waves. With a water resistance rating of up to 100 meters, you can confidently embrace aquatic adventures without worry. All mounted to a 22mm brown leather strap that features blue and orange stitching to match the dial.
 the Expedition North Tide-Temp-Compass with an advanced tide and temperature functionality. The integrated tide tracker allows you to monitor the ebb and flow of the ocean, so you can plan your beach trips, surfing sessions, or fishing adventures with precision.
No more surprises from unexpected tides.
Additionally, the built-in temperature sensor provides real-time temperature readings, on land or water, helping you stay prepared and comfortable in changing weather conditions. Crafted with durability in mind, this watch is built to withstand the elements.
Case: Matte Stainless Steel
Dial: Black
Movement: Quartz Analog
Lens: Sapphire
Strap: Eco-Friendly Leather
Water Res.: 100M
Diameter: 43mm
Thickness: 13mm
Lug Width: 22mm
SKU:TW2V64400JR
Warranty: One Year
About Timex
Founded in 1854 as the Waterbury Clock Company, Timex has a rich and significant history in the world of watches. A pioneer of innovation and technology, they have produced everything from trench watches for soldiers in WWI to the best-selling automatic of the '60s to the number one digital sports watch of the '80s. Their famous slogan "takes a licking and keeps on ticking" is also not just a motto for the brand, but philosophy as well. Timex watches are always designed with everyday people and everyday tasks in mind, whether it's going to work, taking the dog out for a walk, or taking your bike out for a long ride. Fun, functional, durable, and affordable, Timex is a brand that will get you into watches, and always have a place in your collection.
Viewing:
Expedition North® Tide-Temp-Compass 43mm