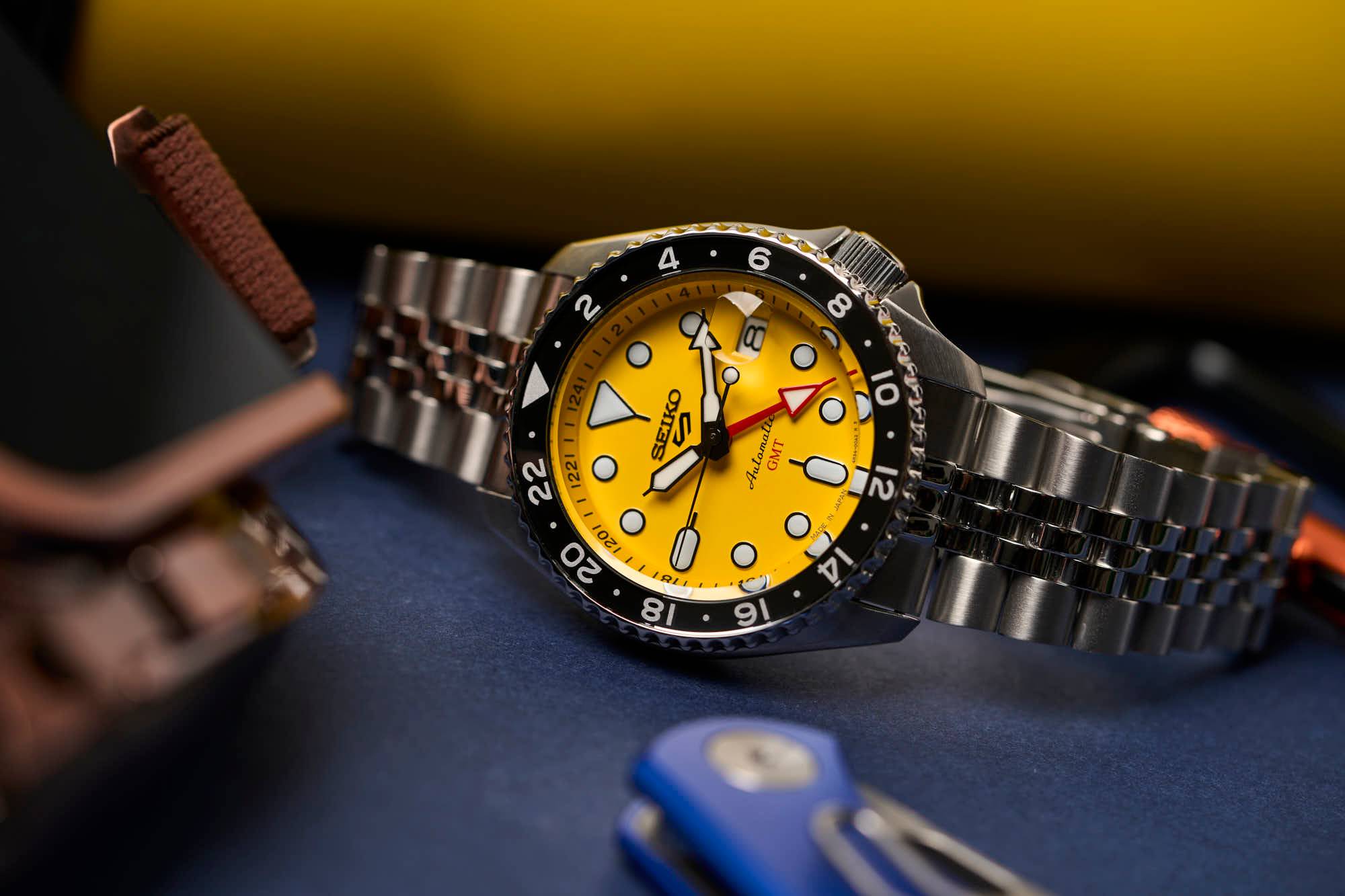 A Mechanical GMT Watch for Everyone
SKX Sports Style GMT
Email Me When Available
Item no longer available
Finish selections for price & availability
Free shipping over $100 USD to the US, $150 CAD to Canada, $600 USD to the rest of the world
Seiko 5 Sports
SKX Sports Style GMT
A Mechanical GMT Watch for Everyone
Email Me When Available
Item no longer available
Finish selections for price & availability
Free shipping over $100 USD to the US, $150 CAD to Canada, $600 USD to the rest of the world
For many people, an affordable Seiko 5 was their first mechanical watch, and the value-packed series holds a special place within the hearts of collectors and enthusiasts all around the globe. While the Seiko 5 range has always represented incredible value for the money, the Seiko 5 GMT models take things up a notch by combining a mechanical GMT movement with one of the brand's most famous case silhouettes of all time.
The 42.5mm stainless steel case measures 46mm lug-to-lug with an overall thickness of 13.6mm, and its core design will be instantly familiar to anyone who has ever handled either the old SKX divers or the modern Seiko 5 Sports series. Color options include a black dial with a black and gray bezel (SSK001), a blue dial with a blue and black bezel (SSK003), or an orange dial with a black bezel that features gilt colored accents (SSK005). Recently the brand added two new color, a yellow dial (SSK017) and a charcoal dial (SSK019).
Regardless of their color differences, all five models feature Hardlex crystals above their dials, friction-fit bidirectional bezels with 24-hour inserts, standard push-pull winding crowns, and screw-down display casebacks. Additionally, all three of the Seiko 5 GMT modes feature hands and hour markers coated with LumiBrite for improved low-light visibility, while their durable cases help provide them with an ample 100 meters of water resistance.
Powering the Seiko 5 GMT watches is the brand's in-house Caliber 4R34 automatic movement, which features independently adjustable hour hands, along with hacking, hand-winding, and a power reserve of approximately 41 hours. Completing all five of the different versions of the Seiko 5 GMT are solid-link stainless steel bracelets that feature solid end-links and latching fold-over clasps.
Case: Stainless Steel
Dial: Yellow
Movement: Seiko 4R34
Winding: Automatic
Complications: GMT, Date
Lens: Hardlex
Strap: Stainless Steel
Water Res.: 100 Meters
Diameter: 42.5mm
Length: 46mm
Thickness: 13.6mm
Lug Width: 22mm
Ref Number: SSK017
Case: Stainless Steel
Dial: Charcoal Grey
Movement: Seiko 4R34
Winding: Automatic
Complications: GMT, Date
Lens: Hardlex
Strap: Stainless Steel
Water Res.: 100 Meters
Diameter: 42.5mm
Length: 46mm
Thickness: 13.6mm
Lug Width: 22mm
Ref Number: SSK019
Case: Stainless Steel
Dial: Orange
Movement: Seiko 4R34
Winding: Automatic
Complications: GMT, Date
Lens: Hardlex
Strap: Stainless Steel
Water Res.: 100 Meters
Diameter: 42.5mm
Length: 46mm
Thickness: 13.6mm
Lug Width: 22mm
Ref Number: SSK005
Case: Stainless Steel
Dial: Black
Movement: Seiko 4R34
Winding: Automatic
Complications: GMT, Date
Lens: Hardlex
Strap: Stainless Steel
Water Res.: 100 Meters
Diameter: 42.5mm
Length: 46mm
Thickness: 13.6mm
Lug Width: 22mm
Ref Number: SSK001
Case: Stainless Steel
Dial: Blue
Movement: Seiko 4R34
Winding: Automatic
Complications: GMT, Date
Lens: Hardlex
Strap: Stainless Steel
Water Res.: 100 Meters
Diameter: 42.5mm
Length: 46mm
Thickness: 13.6mm
Lug Width: 22mm
Ref Number: SSK003
About Seiko 5 Sports
Launched in 1963, the Seiko 5 was Seiko's first automatic watch with a day-date function. The "5" in the name stands for five key elements every Seiko 5 would feature - an automatic movement, day-date display at the three o'clock position, water resistance, a recessed crown at the four o'clock position, and a case and bracelet built for durability. Flash forward to today and Seiko has released a diverse range of new Seiko 5 Sports watches, designed to fit any style, all of which feature the 5 key elements first outlined in the 1960s. An automatic movement Day-date display at the three o'clock position Water resistance Recessed crown at the four o'clock position And a case and bracelet built for durability
Viewing:
SKX Sports Style GMT