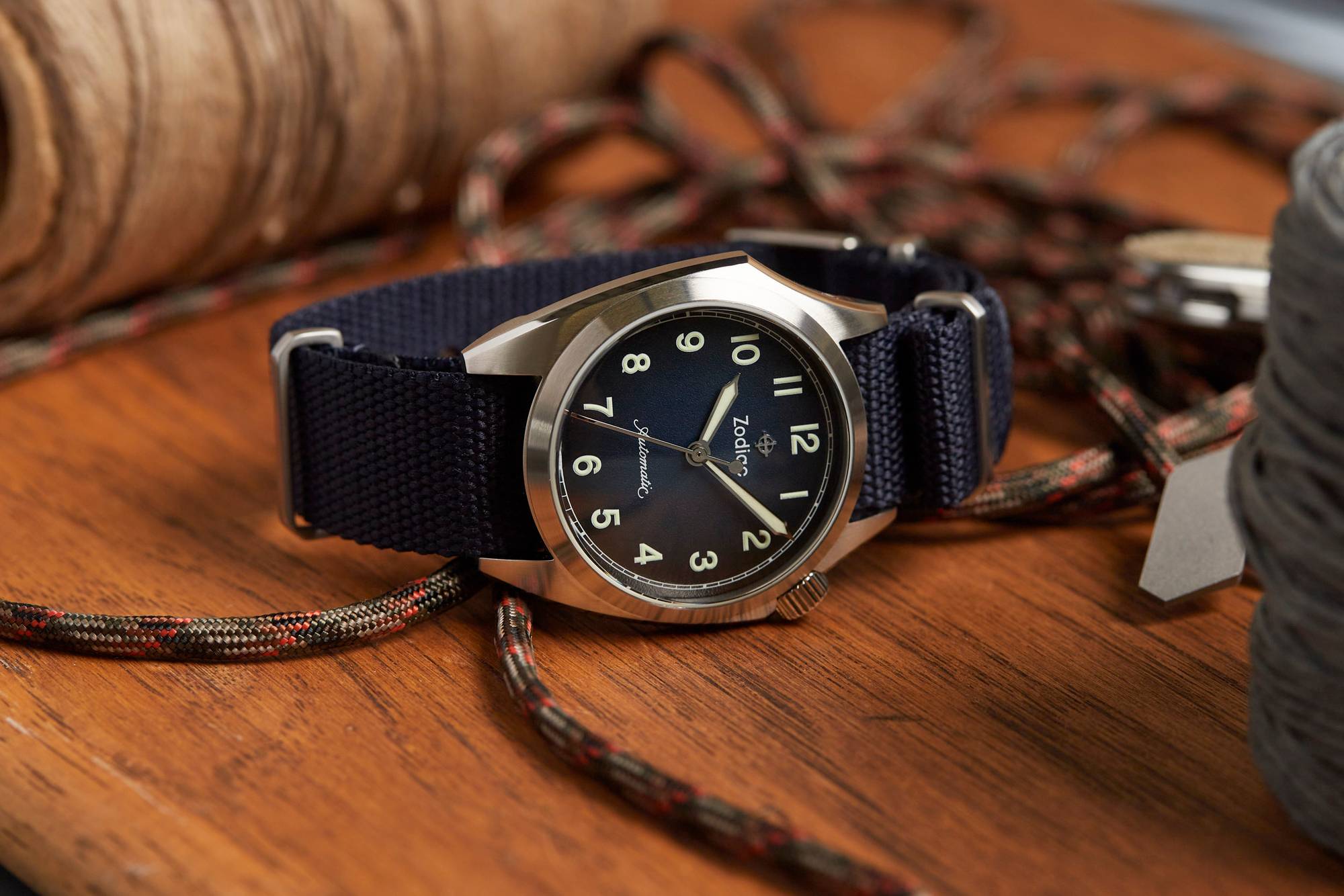 Nylon Mil-straps with a unique finish and weave
Matte Supreme Mil-Straps
Email Me When Available
Item no longer available
Finish selections for price & availability
Free shipping over $100 USD to the US, $150 CAD to Canada, $600 USD to the rest of the world
Crown & Buckle
Matte Supreme Mil-Straps
Nylon Mil-straps with a unique finish and weave
Email Me When Available
Item no longer available
Finish selections for price & availability
Free shipping over $100 USD to the US, $150 CAD to Canada, $600 USD to the rest of the world
Over the last 10 years, nylon mil-straps went from a fun oddity for enthusiasts to a staple in every watch collector's arsenal of straps. Casual, stylish, durable, washable, breathable - they are a perfect complement to a variety of watch types year-round, but especially great in the warmer months. Well, while most brands have continued to make the same old thing, our friends over at Crown & Buckle have continued to design and develop new materials for straps, and recently created the incredible Matte Supreme.
A proprietary fabric, it is woven from non-reflective nylon fibers in a heavy pattern, giving it a canvas-like look. Soft, supple, they are unlike any other nylon strap you've tried, having a truly luxurious look and feel. They are also beautifully made and detailed with fully stitched tails to prevent fraying, perfect ultrasonic cut holes, and machined 316L steel hardware.
Available in gorgeous solids like Olive Jade, Greige, and Space Blue, but also unique melanges like Tundra and Shadow, which randomly mix different color threads to create an overall palette, there is a color to suit any watch. Available in 19mm, 20mm, and 22mm.
Nylon: Tundra
Hardware: Brushed 316L Stainless Steel
Length: 285mm / 11.22in
Thickness: 1.2mm - 1.3mm / .047in - .05in
Nylon: Shadow
Hardware: Brushed 316L Stainless Steel
Length: 285mm / 11.22in
Thickness: 1.2mm - 1.3mm / .047in - .05in
Nylon: Space Blue
Hardware: Brushed 316L Stainless Steel
Length: 285mm / 11.22in
Thickness: 1.2mm - 1.3mm / .047in - .05in
Nylon: Greige
Hardware: Brushed 316L Stainless Steel
Length: 285mm / 11.22in
Thickness: 1.2mm - 1.3mm / .047in - .05in
Nylon: Olive Jade
Hardware: Brushed 316L Stainless Steel
Length: 285mm / 11.22in
Thickness: 1.2mm - 1.3mm / .047in - .05in
Nylon: Black
Hardware: Brushed 316L Stainless Steel
Length: 285mm / 11.22in
Thickness: 1.2mm - 1.3mm / .047in - .05in
Nylon: Slate
Hardware: Brushed 316L Stainless Steel
Length: 285mm / 11.22in
Thickness: 1.2mm - 1.3mm / .047in - .05in
Nylon: Tundra
Hardware: Brushed 316L Stainless Steel
Length: 285mm / 11.22in
Thickness: 1.2mm - 1.3mm / .047in - .05in
Nylon: Shadow
Hardware: Brushed 316L Stainless Steel
Length: 285mm / 11.22in
Thickness: 1.2mm - 1.3mm / .047in - .05in
Nylon: Space Blue
Hardware: Brushed 316L Stainless Steel
Length: 285mm / 11.22in
Thickness: 1.2mm - 1.3mm / .047in - .05in
Nylon: Greige
Hardware: Brushed 316L Stainless Steel
Length: 285mm / 11.22in
Thickness: 1.2mm - 1.3mm / .047in - .05in
Nylon: Olive Jade
Hardware: Brushed 316L Stainless Steel
Length: 285mm / 11.22in
Thickness: 1.2mm - 1.3mm / .047in - .05in
Nylon: Black
Hardware: Brushed 316L Stainless Steel
Length: 285mm / 11.22in
Thickness: 1.2mm - 1.3mm / .047in - .05in
Nylon: Slate
Hardware: Brushed 316L Stainless Steel
Length: 285mm / 11.22in
Thickness: 1.2mm - 1.3mm / .047in - .05in
Nylon: Tundra
Hardware: Brushed 316L Stainless Steel
Length: 285mm / 11.22in
Thickness: 1.2mm - 1.3mm / .047in - .05in
Nylon: Shadow
Hardware: Brushed 316L Stainless Steel
Length: 285mm / 11.22in
Thickness: 1.2mm - 1.3mm / .047in - .05in
Nylon: Space Blue
Hardware: Brushed 316L Stainless Steel
Length: 285mm / 11.22in
Thickness: 1.2mm - 1.3mm / .047in - .05in
Nylon: Greige
Hardware: Brushed 316L Stainless Steel
Length: 285mm / 11.22in
Thickness: 1.2mm - 1.3mm / .047in - .05in
Nylon: Olive Jade
Hardware: Brushed 316L Stainless Steel
Length: 285mm / 11.22in
Thickness: 1.2mm - 1.3mm / .047in - .05in
Nylon: Black
Hardware: Brushed 316L Stainless Steel
Length: 285mm / 11.22in
Thickness: 1.2mm - 1.3mm / .047in - .05in
Nylon: Slate
Hardware: Brushed 316L Stainless Steel
Length: 285mm / 11.22in
Thickness: 1.2mm - 1.3mm / .047in - .05in
Viewing:
Matte Supreme Mil-Straps