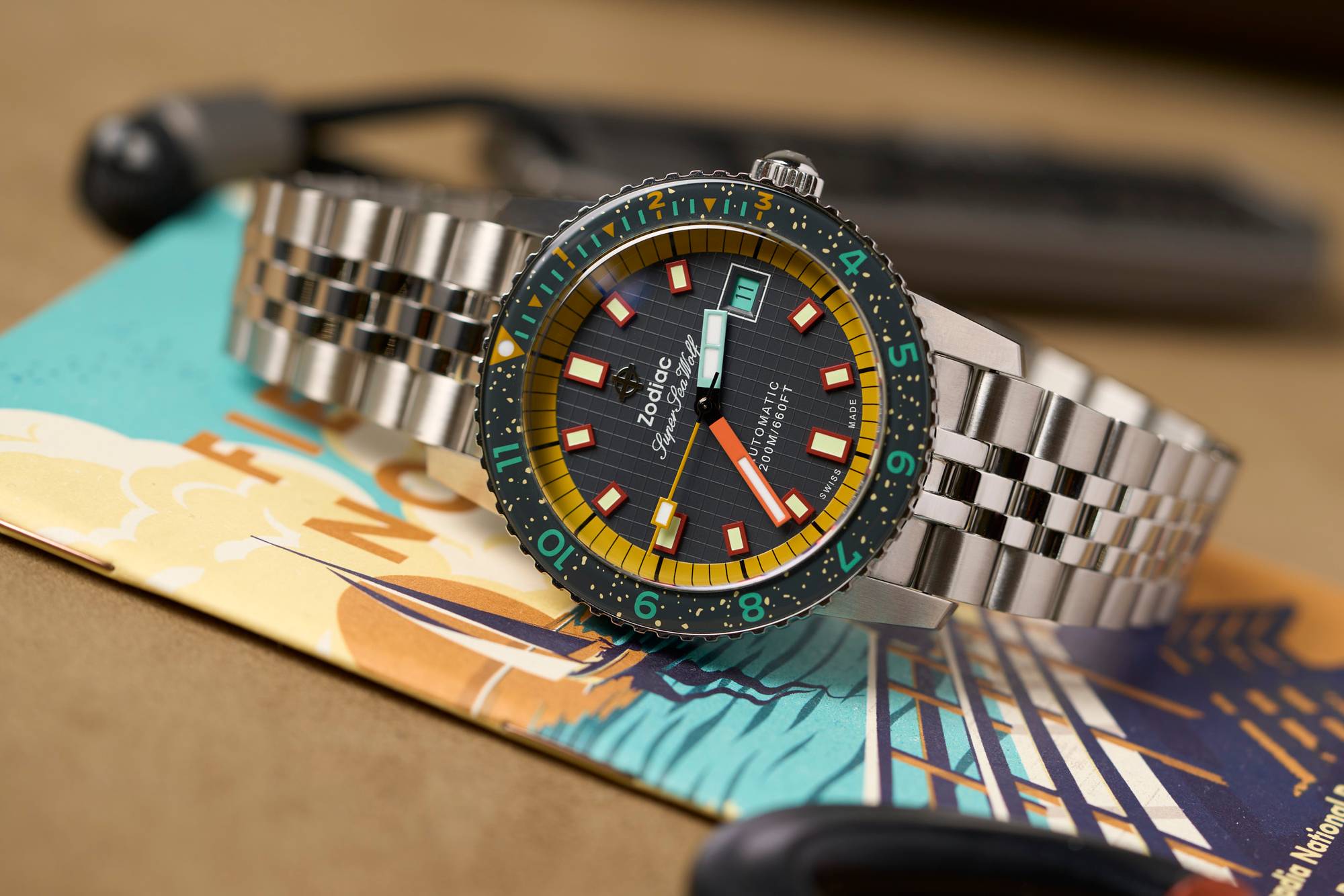 A Five-Link Bracelet for Zodiac's Super Sea Wolf Watches
Five-Link 20mm Stainless Steel Bracelet
Email Me When Available
Item no longer available
Finish selections for price & availability
Free shipping over $100 USD to the US, $150 CAD to Canada, $600 USD to the rest of the world
Zodiac
Five-Link 20mm Stainless Steel Bracelet
A Five-Link Bracelet for Zodiac's Super Sea Wolf Watches
Email Me When Available
Item no longer available
Finish selections for price & availability
Free shipping over $100 USD to the US, $150 CAD to Canada, $600 USD to the rest of the world
Five-Link bracelets are known for their cool style and comfort. Less rigid than other types of bracelets, they have a built-in "jangle" for a vintage charm and light feel. Featuring two wide, brushed links flanking three narrow polished links, the look of a five-link bracelet has an everyday appeal. A touch formal, but still welcome with jeans, they have a preppy charm that is hard to beat.
Zodiac's Five-Link bracelet is designed to fit their Super Sea Wolf Compression models. Excellently machined and finished, the Zodiac Five-Link includes a compact clasp with built-in stretch for even greater comfort.
Material: Brushed and Polished Stainless Steel
Dimensions:20mm Lug (only fits Zodiac Super Sea Wolf Models)
ABOUT ZODIAC
Since 1882, Zodiac Watches has been a truly innovative force in the world of watchmaking. Founded by Ariste Calame in Le Locle, Switzerland, Zodiac was a pioneer in the worlds of automatic watches, "mystery" watches, electronic and even quartz watches. Now, under the wing of Fossil, Zodiac has been working hard to bring this rich history to the surface by recreating their iconic timepieces to new standards. Affordable, luxurious timepieces, Zodiac watches perfectly straddle the line between vintage style and modern functionality.
Viewing:
Five-Link 20mm Stainless Steel Bracelet