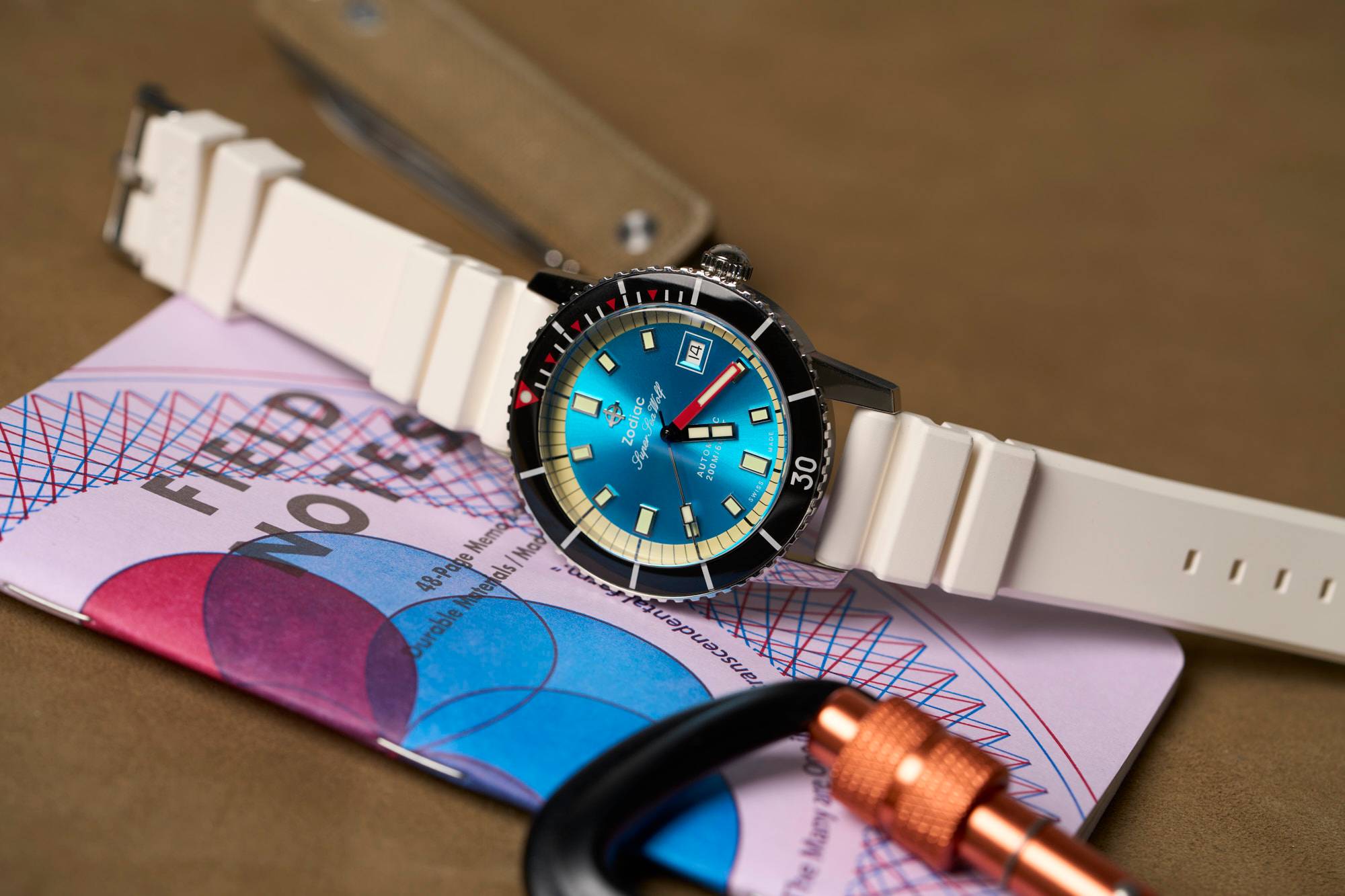 A Dive-Ready Strap In White FKM Rubber
Pro-Diver 20mm Rubber Strap
Email Me When Available
Item no longer available
Finish selections for price & availability
Free shipping over $100 USD to the US, $150 CAD to Canada, $600 USD to the rest of the world
Zodiac
Pro-Diver 20mm Rubber Strap
A Dive-Ready Strap In White FKM Rubber
Email Me When Available
Item no longer available
Finish selections for price & availability
Free shipping over $100 USD to the US, $150 CAD to Canada, $600 USD to the rest of the world
Any serious watch collector or enthusiast will be the first to tell you how big of an impact having the right strap can make when it comes to maximizing the enjoyment that you get from your timepieces. Zodiac has your needs covered with its 20mm Pro-Diver Strap, which is crafted from ultra-durable FKM rubber and features a flexible vented design with a beautifully machined stainless steel Zodiac pin buckle.
As a material, FKM rubber is used throughout a wide variety of different industries due to its highly resilient properties. In addition to being both flexible and completely waterproof, FKM rubber offers extraordinary resistance to oils, chemicals, and heat, making it ideally suited for watch straps that need to stand up to the rigors of active use. This Zodiac Pro-Diver 20mm Strap is constructed from bright white FKM rubber to create a durable and dive-ready band with a crisp and clean appearance that allows all of the colors on your watch to pop.
The Zodiac Pro-Diver 20mm White Rubber Strap comes with an included strap changing tool and will fit any watch with standard 20mm lugs.
Material: FKM Rubber
Color: White
Size: 20mm
Buckle: Stainless Steel Zodiac Pin Buckle
Ref Number: ZOS1019
About Zodiac
Since 1882, Zodiac Watches has been a truly innovative force in the world of watchmaking. Founded by Ariste Calame in Le Locle, Switzerland, Zodiac was a pioneer in the worlds of automatic watches, "mystery" watches, electronic and even quartz watches. Now, under the wing of Fossil, Zodiac has been working hard to bring this rich history to the surface by recreating their iconic timepieces to new standards. Affordable, luxurious timepieces, Zodiac watches perfectly straddle the line between vintage style and modern functionality.
Viewing:
Pro-Diver 20mm Rubber Strap