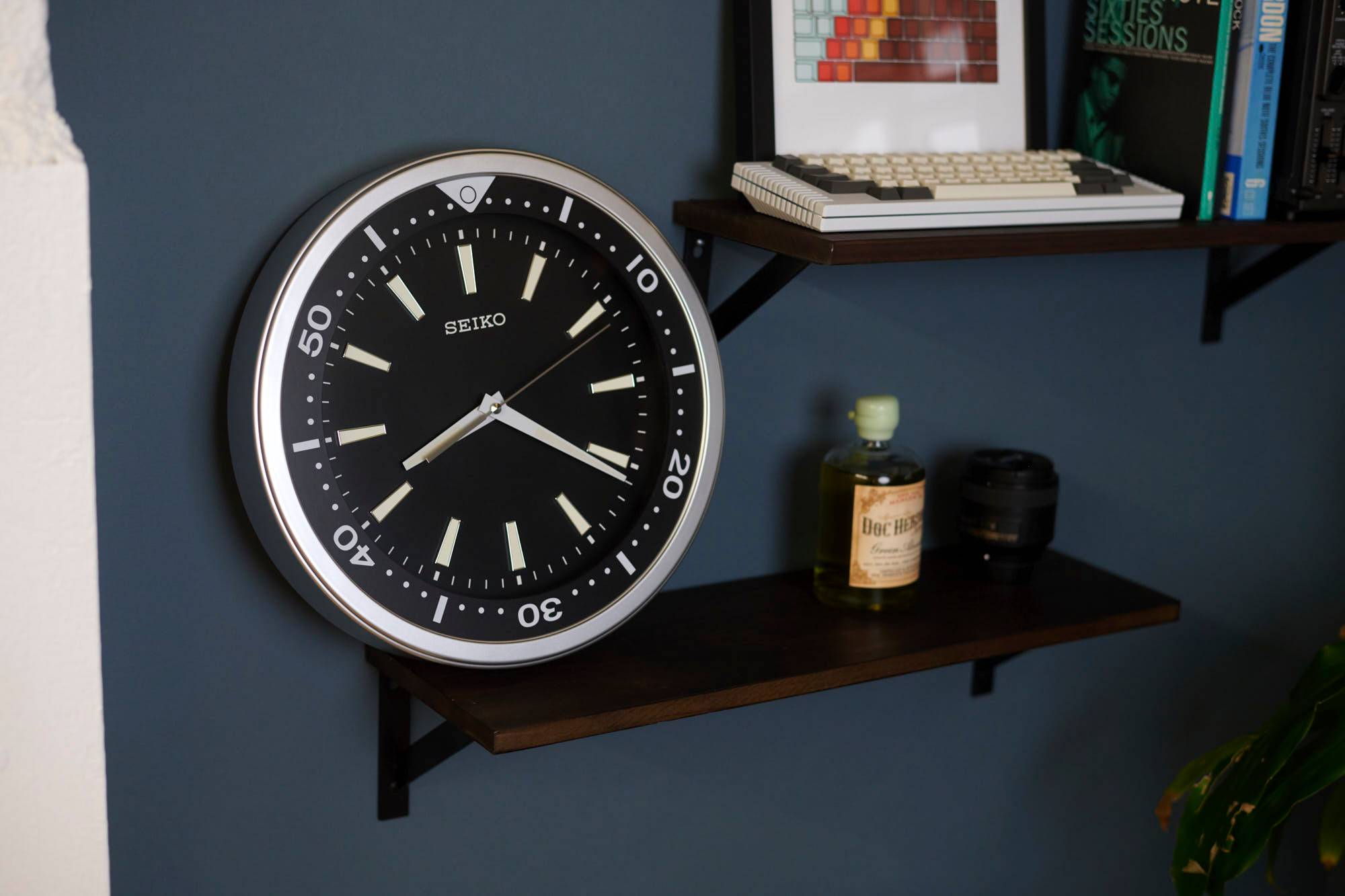 A Seiko Wristwatch for Your Wall
14 Inch Ultra Modern Black Clock
Email Me When Available
Item no longer available
Finish selections for price & availability
Free shipping over $100 USD to the US, $150 CAD to Canada, $600 USD to the rest of the world
Seiko
14 Inch Ultra Modern Black Clock
A Seiko Wristwatch for Your Wall
Email Me When Available
Item no longer available
Finish selections for price & availability
Free shipping over $100 USD to the US, $150 CAD to Canada, $600 USD to the rest of the world
Just like watches, clocks also benefit from clean and highly legible displays and Seiko's lineup of "Watch Face" wall clocks takes the familiar design language of some of the brand's most popular wristwatches and transforms them into practical wall-mounted timekeepers that perfectly complement any home or office setting.
Measuring 13.75" in diameter by 2.25" thick, the Seiko 14" Ultra-Modern Watch Face Wall Clock features a silver-tone plastic metallic case, which is fitted with a black dial that features taped baton-style hands and hour markers for a classic and highly legible display. Just like the watches that serve as its inspiration, the hands and indexes are finished with luminous material for added low-light visibility, while the face of the watch is surrounded by a bezel that features a black 60-minute elapsed time scale that mirrors the aesthetic of Seiko's legendary dive watches.
Driving the three centrally-mounted hands of the Seiko 14" Ultra-Modern Watch Face Wall Clock is one of the brand's accurate and reliable quartz clock movements. Powered by a single AA battery, this tried and true Seiko movement design features a silent sweep seconds hand that quietly glides around the face of the clock and recalls the fluid motion that is characteristic of the brand's famous mechanical wristwatches.
Size: 13.75" x 2.25"
Color: Black
Features: Quiet Sweep Seconds Hand, Luminous Hands and Hour Markers
Battery: 1 x AA
Model Number: QXA723ALH
About Seiko
Founded in 1881, Seiko began as a humble jewelry and clock store and has since grown into the watchmaking juggernaut that it is today. If the technology for a watch they wanted to make didn't exist, Seiko made it happen under their own roof. Since Seiko is vertically integrated, they can customize nearly any part of their watches to their own design and specs in house. From the first true dive watch, to one of the first automatic chronographs, and completely new ways of powering a watch like Spring Drive, Seiko's list of horological achievements is lengthy. They've done everything all the way down to creating their own lab-grown and regulated quartz crystals for timekeeping.
Viewing:
14 Inch Ultra Modern Black Clock