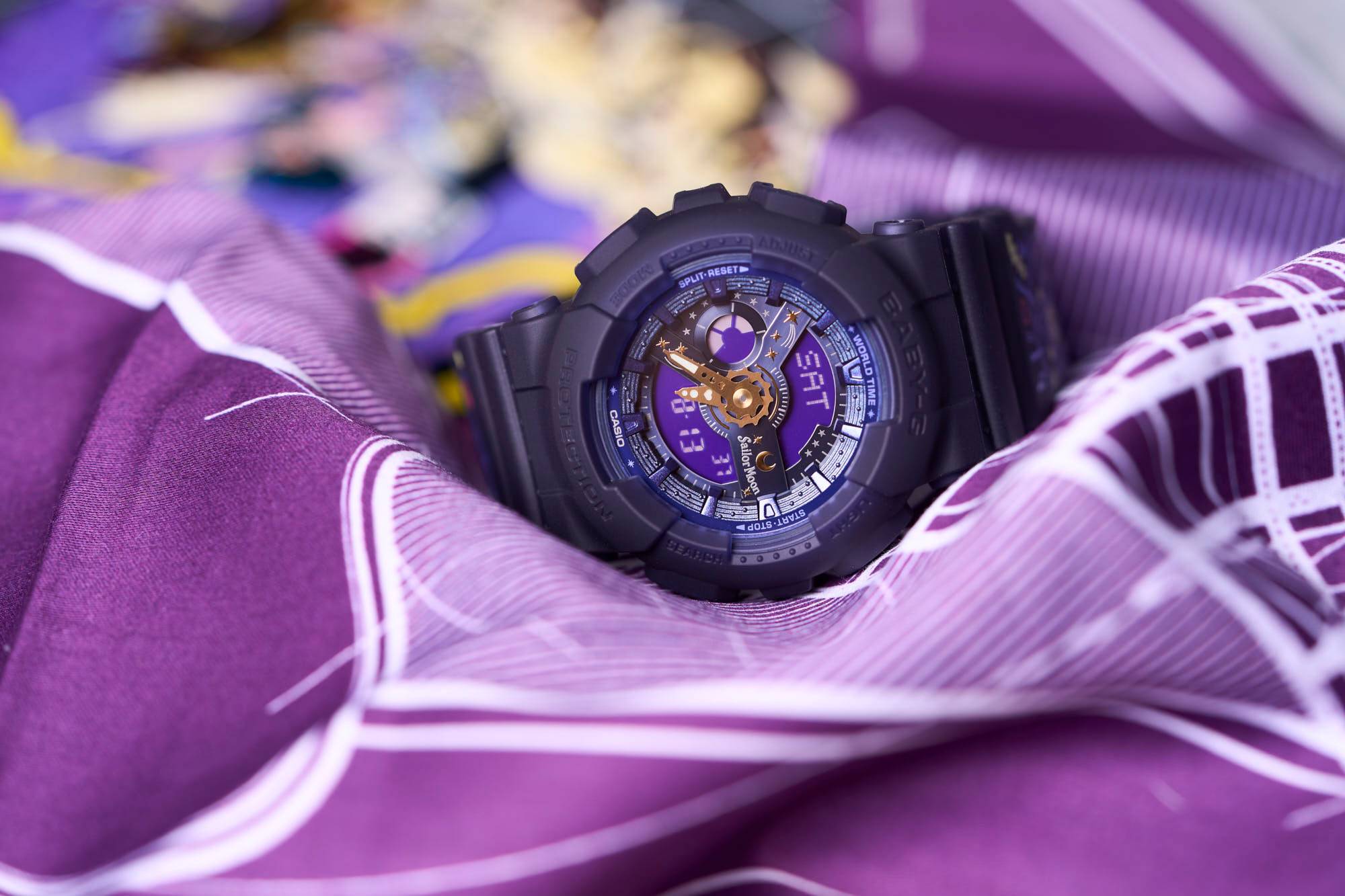 BABY-G x Sailor Moon Collaboration Watch
BA110XSM-2A 'Sailor Moon'
Email Me When Available
Item no longer available
Finish selections for price & availability
Free shipping over $100 USD to the US, $150 CAD to Canada, $600 USD to the rest of the world
G-Shock
BA110XSM-2A 'Sailor Moon'
BABY-G x Sailor Moon Collaboration Watch
Email Me When Available
Item no longer available
Finish selections for price & availability
Free shipping over $100 USD to the US, $150 CAD to Canada, $600 USD to the rest of the world
Created with the same emphasis on durability as their larger G-SHOCK counterparts but often featuring different designs and colors to compliment their more compact cases, BABY-G watches also frequently serve as the platform for various special-editions and collaboration pieces. Both the BABY-G brand and the Sailor Moon anime franchise have been popular since the 1990s, and the BABY-G BA-110XSM-2A offers a unique design that draws its inspiration from the popular Japanese anime character and presents it in a colorful and compact watch with a hybrid analog/digital display.
Featuring a lightweight and shock-resistant resin case that measures 43.4mm wide by 46.3mm lug-to-lug and 15.8mm thick, the bezel and strap are crafted from a midnight blue semi-transparent resin that is intended to resemble the color of the evening sky. The outer surface of the strap is decorated with stars, moons, hearts, and other Sailor Moon images printed in red, blue, and yellow, which collectively create a unique appearance that offers an unmistakable resemblance to the aesthetic of the famous anime franchise.
The Sailor Moon design elements extend to the dial, which features a three-dimensional blue and purple surface with golden stars and the "Sailor Moon" logo printed at the 3 o'clock location. Gold colored hour and minute hands indicate the time, while a navy blue inverted LCD screen and four buttons located on the side of the case offer access to the model's various functions. Protecting the internals of the watch is a solid stainless steel caseback that features a Sailor Moon engraving and provides the BA-110XSM-2A with 100 meters of water resistance.
Powering the BABY-G BA-110XSM-2A Sailor Moon Collaboration Model is the 5338 module, which includes a world time feature, stopwatch, alarm, countdown timer, auto-programed calendar, 12-hour and 24-hour timekeeping formats, and an amber-colored LED backlight with an afterglow feature. Battery powered for reliable grab-and-go convenience, the 5338 module offers all of the same legendary accuracy and reliability that has made the brand famous.
G-SHOCK Watches ship to the USA only.

Case: Blue Resin
Dial: Blue with Inverted Blue Digital Display
Module: 5338
Features: World Time, Stopwatch, Alarm, Countdown Timer, Automatic Calendar (Until 2099), LED Backlight
Lens: Mineral Glass
Strap: Blue Resin
Water Res.: 100 Meters
Diameter: 43.4mm
Length: 46.3mm
Thickness: 15.8mm
Ref Number: BA-110XSM-2A
About G-Shock
First launched by Casio in 1994, BABY-G was originally created to be a line of women's watches that offered a more compact version of the brand's famous G-SHOCK lineup. Maintaining an emphasis on practical features, modern designs, and industry-leading durability, BABY-G watches often feature different colors than their larger counterparts, and while the collection was originally created specifically for women, it is now worn by countless different individuals with smaller wrists who all want the brand's legendary reputation for durability in a smaller and more compact overall profile.
Viewing:
BA110XSM-2A 'Sailor Moon'