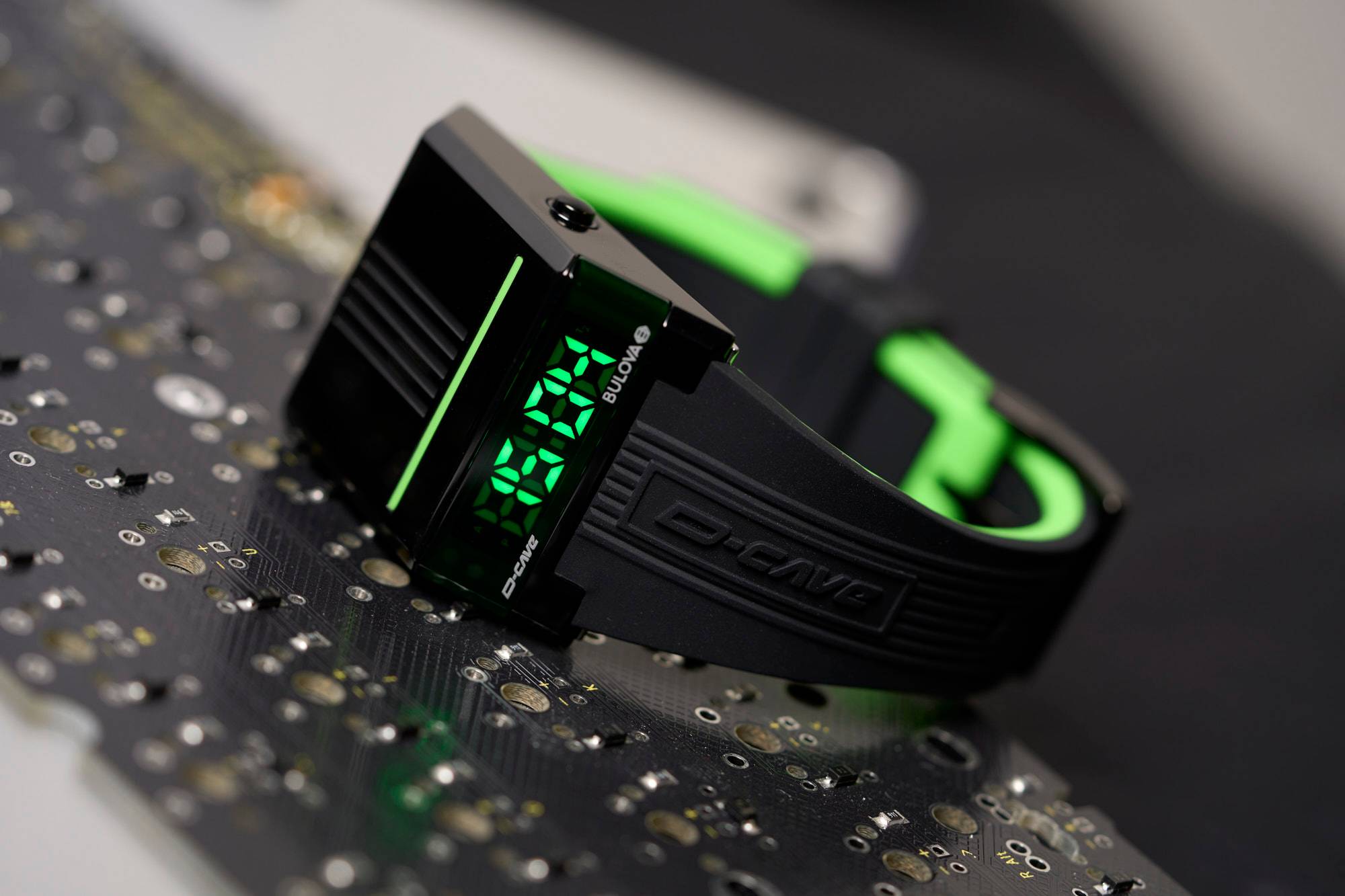 The Ultimate Wristwatch for Gamers in the Multiverse
Computron
Email Me When Available
Item no longer available
Finish selections for price & availability
Free shipping over $100 USD to the US, $150 CAD to Canada, $600 USD to the rest of the world
Bulova
Computron
The Ultimate Wristwatch for Gamers in the Multiverse
Email Me When Available
Item no longer available
Finish selections for price & availability
Free shipping over $100 USD to the US, $150 CAD to Canada, $600 USD to the rest of the world
As part of Bulova's Archive Series that celebrates historic designs and memorable models from the brand's past, the modern Computron collection reintroduces the unusual trapezoidal case design of the original Computron LED watch from the 1970s, and makes it available for buyers in the modern era. Created in collaboration with the lifestyle metaverse marketplace D-Cave, the Bulova Computron D-Cave reimagines the brand's classic LED wristwatch with aesthetic inspiration that draws from gaming culture.
The trapezoid-shaped stainless steel case of the Bulova Computron D-Cave measures 31mm across with a lug width of 19mm, and it features a sleek black IP coating with luminous green accents. A durable mineral glass crystal protects its bright green LED display, which lights up with a press of the button located on the right-hand side of the case. Rather than featuring a metal bracelet like the other Bulova Computron models, the D-Cave edition is fitted with a black silicone strap that has matching green accents and a black IP coated buckle.
Powering the Bulova Computron D-Cave is a quartz LED movement that presents the time using a bright green digital display. Just like other LED watches, the screen remains dark until a button is pressed to activate it, and as it is a digital quartz timepiece, the LED movement inside the Bulova Computron is capable of displaying both the day and date, along with a secondary time zone and even the option of either a 12-hour or 24-hour time formats.
Case: Black IP Stainless Steel
Dial: Green LED Display
Movement: LED Quartz Movement
Functions: Day, Date, Dual Time Zone, 12-Hour/24-Hour Time
Lens: Mineral
Strap: Black Silicone
Water Res.: 30 Meters
Diameter: 31mm
Thickness: 13.8mm
Lug Width: 19mm
Ref Number: 98C141
About Bulova
Founded in 1875, Bulova is an American watch company based in New York City that was one of the most prominent brands in the industry throughout most of the 20th century. A true household name, Bulova is credited with numerous contributions to watchmaking, including creating the world's first fully-electronic wristwatch using the brand's proprietary tuning-fork based technology. Bulova timepieces have been issued to members of the United States Military, used on 46 different NASA missions, and even worn by astronauts on the surface of the Moon. Since 2008, Bulova has been owned by Citizen Watch Co. and the company continues to operate out of its New York City headquarters, producing high-quality timepieces that honor the brand's remarkable and diverse history.