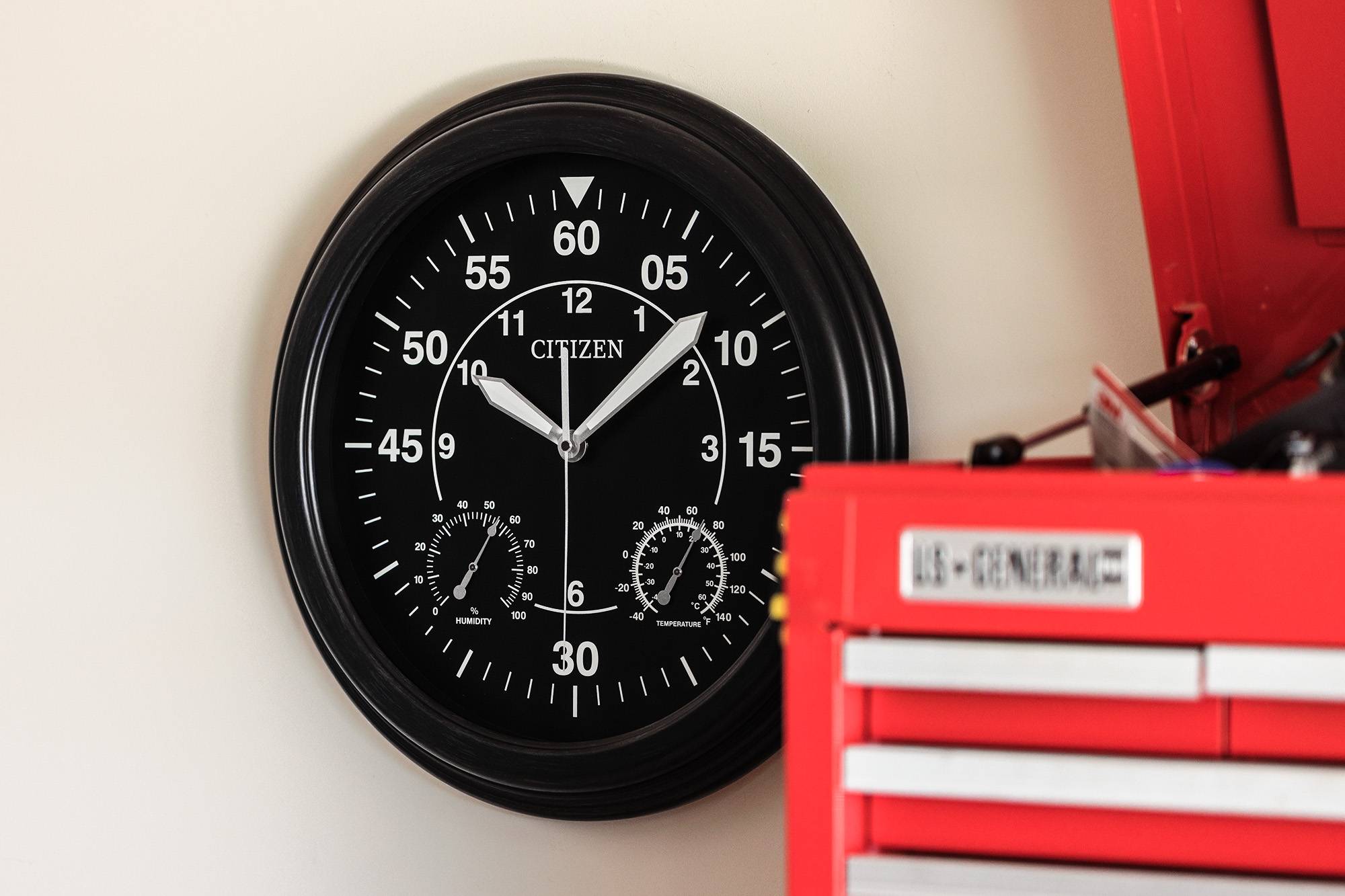 An Outdoor Wall Clock Inspired by Pilot's Watches
Outdoor 18" Dial CC2016
Email Me When Available
Item no longer available
Finish selections for price & availability
Free shipping over $100 USD to the US, $150 CAD to Canada, $600 USD to the rest of the world
Citizen
Outdoor 18" Dial CC2016
An Outdoor Wall Clock Inspired by Pilot's Watches
Email Me When Available
Item no longer available
Finish selections for price & availability
Free shipping over $100 USD to the US, $150 CAD to Canada, $600 USD to the rest of the world
Pilot's watches were first and foremost designed with maximum legibility in mind, so that they could provide their owners with at-a-glance access to the time while flying high above the clouds. The Citizen Wall Clock CC2016 takes the core design DNA of military-issued pilots watches from the golden era of aviation and distills it down into an 18" wall clock that features a water-resistant casing that is specifically designed for outdoor use.
Powering the Citizen Wall Clock CC2016 is one of the brand's multi-function quartz clock movements, which runs on a single AA battery and includes both a humidity meter and a thermometer that are displayed by the two smaller registers located on the lower half of the dial. While the high-contrast white on black design offers supreme legibility, the hands and hour markers are also coated in green-glowing luminous material to offer better access to the time in dark conditions.
Size: 18"
Color: Black
Features: Hygrometer, Thermometer, Luminous Hands and Hour Markers, Water-Resistant Structure
Battery: 1 x AA
Model Number: CC2016
About Citizen
With a history that dates back to the founding of the Shokosha Watch Research Institute in 1918, Citizen Watch Co. was formally established in 1930 with the goal of creating high-quality yet accessible timepieces for the Japanese market. Headquartered in Nishitokyo, Tokyo, Japan, Citizen is one of the world's largest and most vertically-integrated watch manufacturers. In addition to producing timepieces under its own name, Citizen also serves as the parent company for a number of other brands including Bulova, Alpina, Arnold & Son, Frederique Constant, Campanola, and Miyota. Citizen's list of horological accomplishments is both long and impressive, including everything from creating Japan's first fully-waterproof wristwatch to currently holding the title for the world's most accurate movement, which is capable of astonishing precision within just one second per year.
Viewing:
Outdoor 18" Dial CC2016