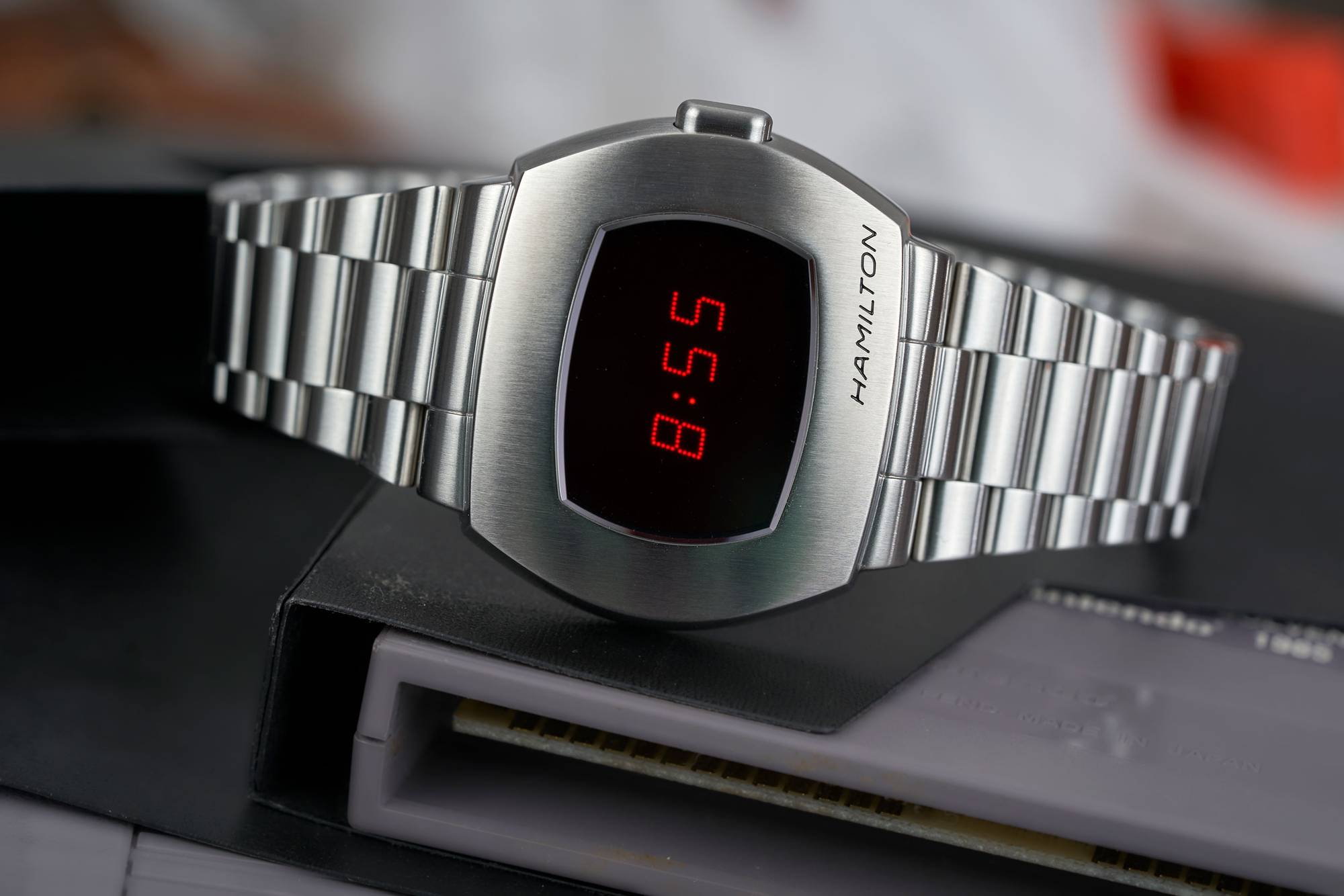 A recreation of the first digital watch, updated for modern times
PSR Digital Quartz
Email Me When Available
Item no longer available
Finish selections for price & availability
Free shipping over $100 USD to the US, $150 CAD to Canada, $600 USD to the rest of the world
Hamilton
PSR Digital Quartz
A recreation of the first digital watch, updated for modern times
Email Me When Available
Item no longer available
Finish selections for price & availability
Free shipping over $100 USD to the US, $150 CAD to Canada, $600 USD to the rest of the world
When you think of vintage watches, digital is not likely to come to mind, yet it was a full 50 years ago that Hamilton unveiled their incredible Pulsar watch. A truly revolutionary innovation at time, it was made of solid gold and cost over $2,000, which was a lot in '70s dollars. To commemorate the 50th anniversary of this amazing, world-changing achievement, Hamilton has brought back this original design, with a few modern updates.
The PSR is a fairly faithful recreation of the original's futuristic "tv" dial design. Rendered in solid steel, it measures 40.8 x 34.7mm with an integrated bracelet. While the case stays true, the digital display has been vastly upgraded with a hybrid LCD/OLED design. This unique display is "always on" showing the time in dim, but readable red numerals. A hit of the button on the side ups the brightness tremendously making the numerals glow. 
For fans of Hamilton, vintage tech, as well as interesting and unique timepieces with great stories, the PSR is a watch to add to your collection.
Hamilton Watches ship to the USA only.


Case: Brushed Stainless Steel
Dial: LCD/OLED Hybrid
Movement: Digital Quartz
Lens: Sapphire
Strap: Integrated Steel Bracelet
Water Res.: 100M
Diameter: 40.8mm
Length: 34.7mm
Thickness: 14mm
SKU: H52414130
Warranty: Two Year Limited
About Hamilton
Founded in 1882 in Lancaster, Pennsylvania, Hamilton was one of the great American watch brands of the early 20th century, and a pioneer in watchmaking in general. Through the early and mid-twentieth Hamilton became a household name by producing everything from pocket watches for railroad engineers, to mil-spec watches for the troops, to deck chronometers for the Navy, to everyday dress and casual pieces loved worldwide. In short, Hamilton was a true watch brand, pursuing horology across a wide spectrum of disciplines while simultaneously gracing the wrists of of timepiece enthusiasts.
Today, Hamilton is owned and operated by the Swatch group, giving them access to the best Swiss movements and manufacturing. Their current catalog draws upon their exceptional archive to create a wide range of timepieces that any watch enthusiast should love.
Viewing:
PSR Digital Quartz