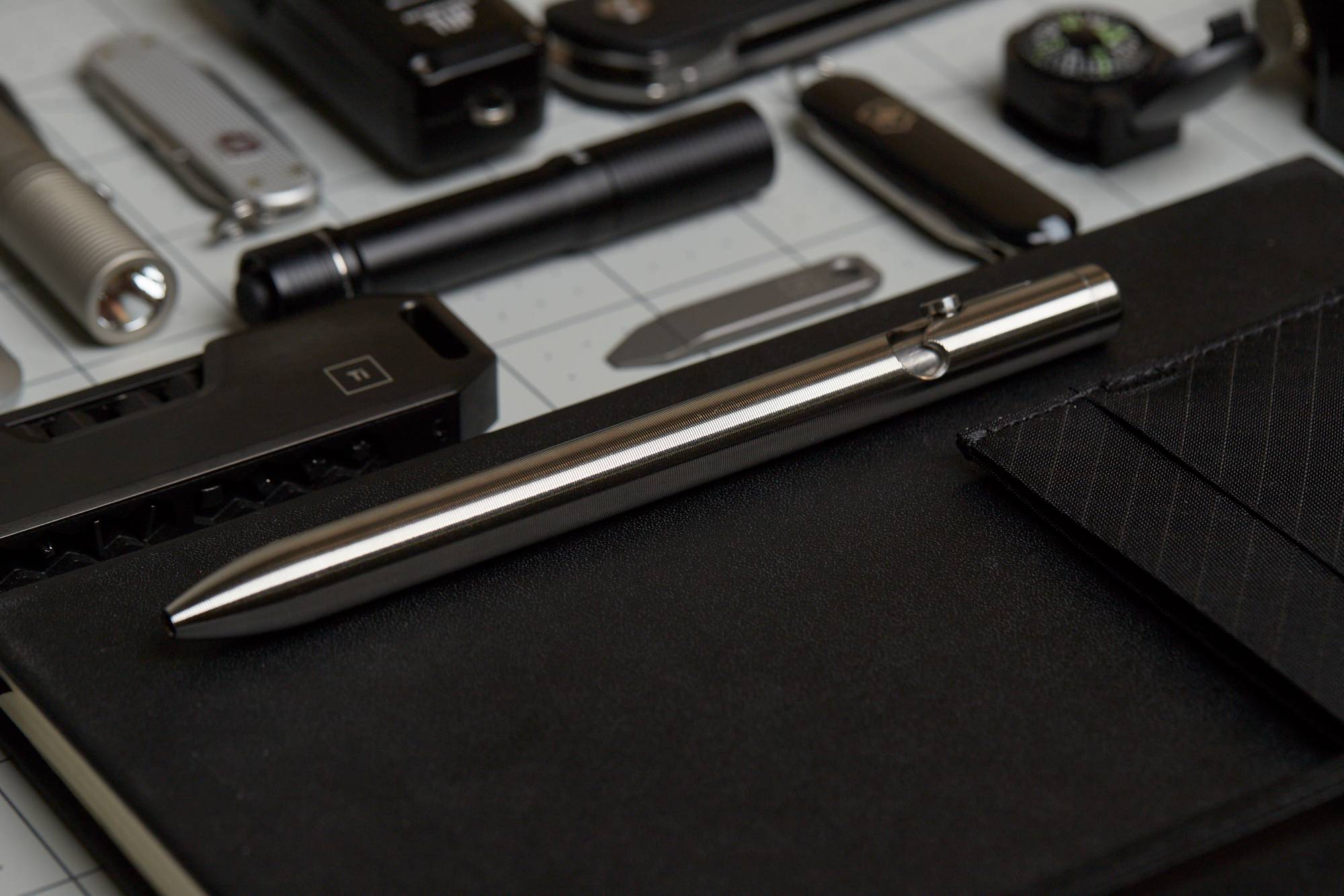 Designed and machined in Texas
Bolt Action Pen
Email Me When Available
Item no longer available
Finish selections for price & availability
Free shipping over $100 USD to the US, $150 CAD to Canada, $600 USD to the rest of the world
Tactile Turn
Bolt Action Pen
Designed and machined in Texas
Email Me When Available
Item no longer available
Finish selections for price & availability
Free shipping over $100 USD to the US, $150 CAD to Canada, $600 USD to the rest of the world
Tactile Turn has been perfecting their machined pens for the better part of a decade. Their Bolt Action pen is a fun and functional take on the ubiquitous writing tool. After a few actuations of the bolt, you'll quickly understand how the mechanism can be addicting to play with. Instead of flimsy plastic, they make their pens from titanium, copper, bronze, or zirconium. All of the metal components in the pen are machined entirely in-house at their Texas machine shop — even the springs and screws. 
Each pen features a 0.43" thick barrel that's machined with their signature grip pattern. This series of small ridges makes for a slip-free experience — not something you witness in most other metal pens. A bent steel deep carry pocket clip and minimal branding engraved on the inside of the clip keep the pen secured to your pocket. The bolt mechanism consists of a channel cut into the side of the pen with a chamfered edge, the bolt itself, and the carrier inside the channel that makes contact with the refill. Using the pen is simple — just push the bolt down and slightly over and it'll lock into place. Flick it back and the spring pops the pen shut. The Bolt Action Pen is 5.6" long and comes with a reliable Pilot G2 ink refill, but can accept dozens more for a customized writing experience.
Made in the USA
Materials: Copper, Titanium
Dimensions:
Length: 5.6"
Diameter: 0.43"
Weight: 2.3oz
Made in the USA
Materials: Titanium
Dimensions:
Length: 5.6"
Diameter: 0.43"
Weight: 1.3oz
Made in the USA
Materials: Bronze, Titanium
Dimensions:
Length: 5.6"
Diameter: 0.43"
Weight: 2.0oz
About Tactile Turn
Tactile Turn makes some of the best machined pens in the business. Based in Texas, Tactile Turn makes all of their pens 100% in house, even the torx screws and springs. The "tactile" in Tactile Turn refers to the custom grooved pattern machined into the surface of each of their pens, making them comfortable and easy to grip during those long writing sessions. Premium metals like titanium, bronze, and copper fill their collection of buy-it-for life writing instruments. Whether you choose the Side Click or Bolt Action, Tactile Turn's mechanisms for extending the refill are fun and fidget-friendly.