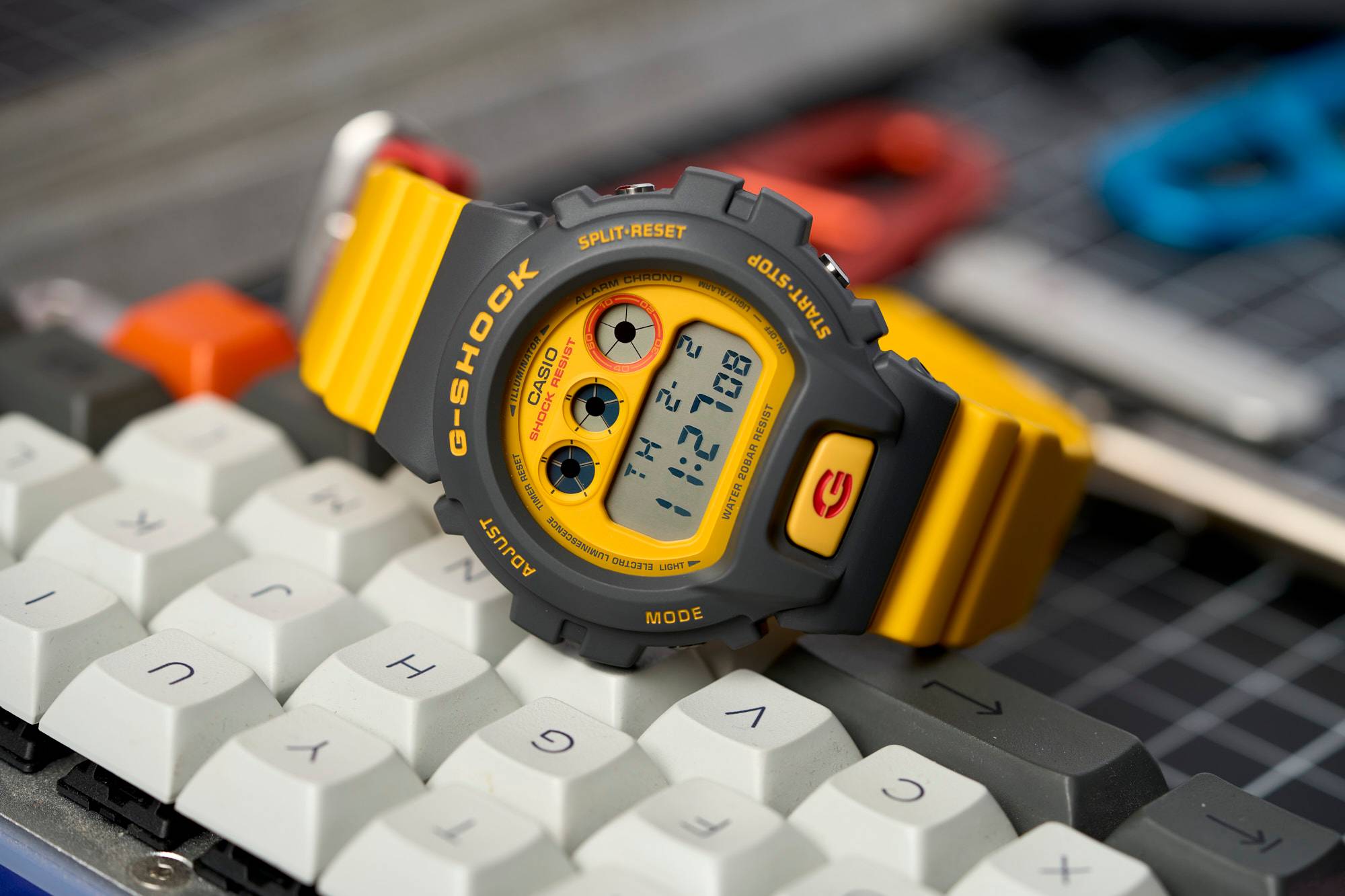 A Throwback To An Old 90's Fave
DW6900 Series
Email Me When Available
Item no longer available
Finish selections for price & availability
Free shipping over $100 USD to the US, $150 CAD to Canada, $600 USD to the rest of the world
G-Shock
DW6900 Series
A Throwback To An Old 90's Fave
Email Me When Available
Item no longer available
Finish selections for price & availability
Free shipping over $100 USD to the US, $150 CAD to Canada, $600 USD to the rest of the world
G-SHOCK might not be the oldest watch brand on earth, but they have been around longer than you might think, getting started in 1983. As such, over the years there have been plenty of iconic watches produced. The DW6900 was unveiled in 1995, and for many who grew up in the 90s, is what comes to mind when they hear the words G-SHOCK. The 6900 is a modern tribute to this icon.
53.9 x 49.7 x 18.6mm in size, the 6900 makes a statement on the wrist, especially rendered in yellow. The semi-rounded shape makes it wear well, however. The signature dial, featuring a large LCD for primary functions, with three, small circular screens above, shouts 90s era G-SHOCK. Though based on the past, the 6900 is still packed full of the specs and features you expect to find in a modern G-SHOCK, including the shock resistance the brand is known for, and 200m of water resistance.
The brain of the 6900 is Module 3230. With an accuracy of +/-15 seconds a day, the Module also features a calendar programmed to 2099, chronograph, and countdown timers.
G-shock Ships Only within the US
Case: Carbon + Resin
Dial: Digital
Module: 3230
Features: Stopwatch, Countdown Timer, Alarms, Full-Auto Calendar (to 2099)
Lens: Mineral
Strap: Resin
Water Res.: 200 Meters
Diameter: 53.2 x 50mm
Thickness: 18.6mm
Ref Number: DW6900Y-9
About G-Shock
G-SHOCK was born from a simple idea — a watch should not break when dropped. Back in 1983, the original square-shaped DW-5000C was created after Kikuo Ibe witnessed a child bouncing a rubber ball. It struck him that a watch floating within a rubber case would be impervious to shocks. After a bunch of testing and design with toughness in mind, the brand was born. Nearly 35 years and hundreds of models later, G-SHOCK is still best known for being some of the toughest, hard-wearing watches that money can buy.