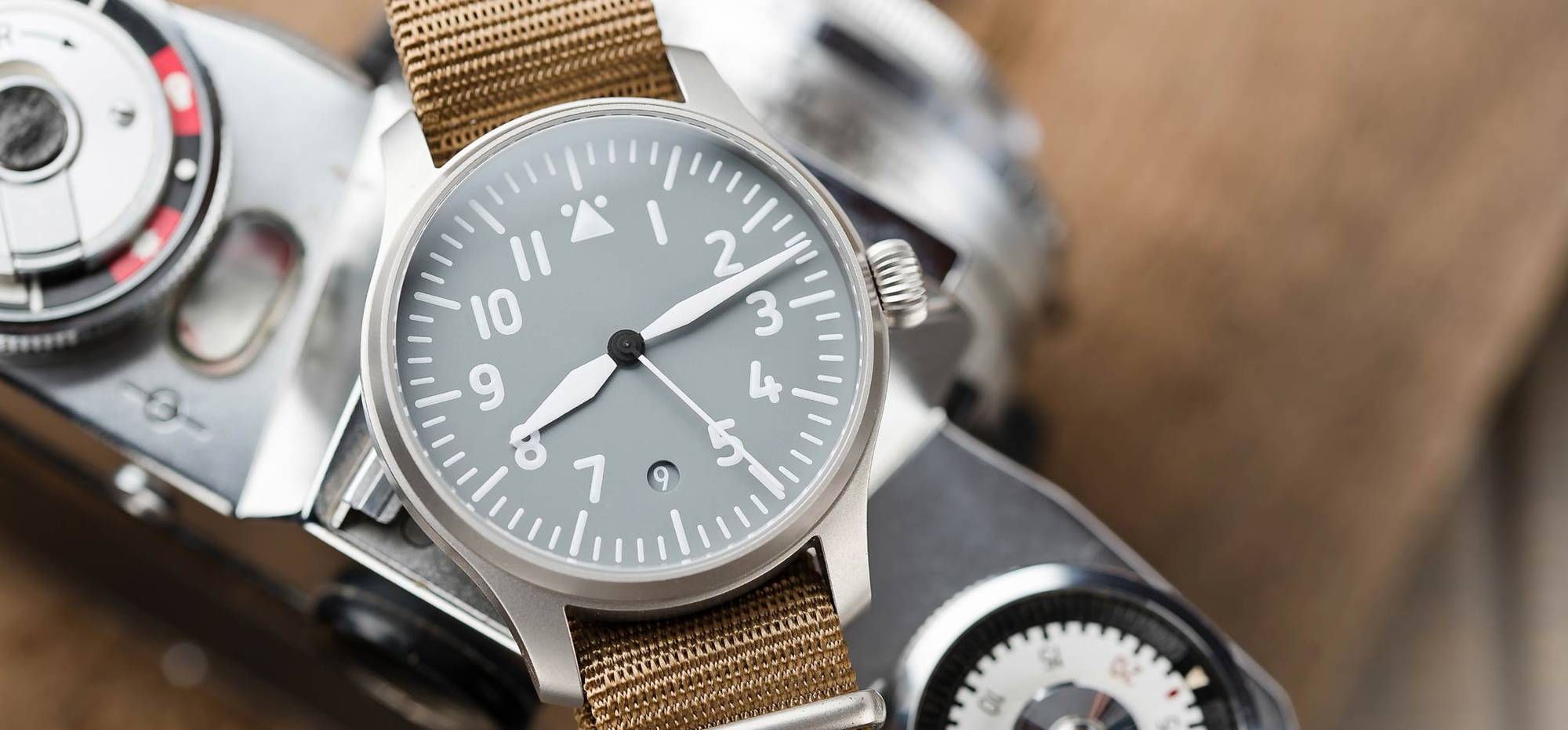 Orders placed now ship in June
Flieger Verus Grau LE
Email Me When Available
Item no longer available
Finish selections for price & availability
Stowa
Flieger Verus Grau LE
Orders placed now ship in June
Email Me When Available
Item no longer available
Finish selections for price & availability
The Stowa Flieger Verus is a modern take on the classic Type A flieger watch. Featuring a supremely wearable 40mm case rendered in bead-blasted steel with 50M of water resistance, it's meant as an everyday sport watch. The dial is where the Verus gets its modern attitude, featuring rounded type and markers for a clean, graphic sensibility. 
For the limited edition, we made the dial a matte, neutral, medium gray with matching date at six. The monochromatic palette gives the Verus a more urban aesthetic, increasing its everyday wearability. We paired the LE with a black leather strap from Stowa for a classic option, and a modified Coyote ADPT Strap with matte hardware for a sporty take. The gold tone of the Coyote nylon complements the gray dial, adding another layer to the design.
Inside of the Flieger Verus Grau LE is the ETA 2824-2 movement, a Swiss-made automatic workhorse movement. This caliber features 25-jewels, 38-hour power reserve, date, and hacking seconds (the second-hand stops when the crown is pulled out). The 2824 is a tried and true movement, thus making it a reliable favorite.
This is a limited edition of 100 (individual numbers cannot be chosen.)
Orders will be accepted at 25 units per month.  Current ship date will be updated and shown on this page. Watches will ship directly from Stowa Germany.  EU customers will be contacted after order to collect VAT. Depending on your shipping destination you may be subject to import taxes. Shipping is included worldwide using FedEx or DHL.
Case: Bead-blasted Steel
Dial: Matte Gray
Movement: ETA 2824-2
Complications: Date
Lens: Sapphire
Straps: Black leather
+ Coyote ADPT Strap
Water Res.: 50M
Diameter: 40mm
Length: 48.6mm
Thickness: 10.2mm
Lug Width: 20mm
Viewing:
Flieger Verus Grau LE