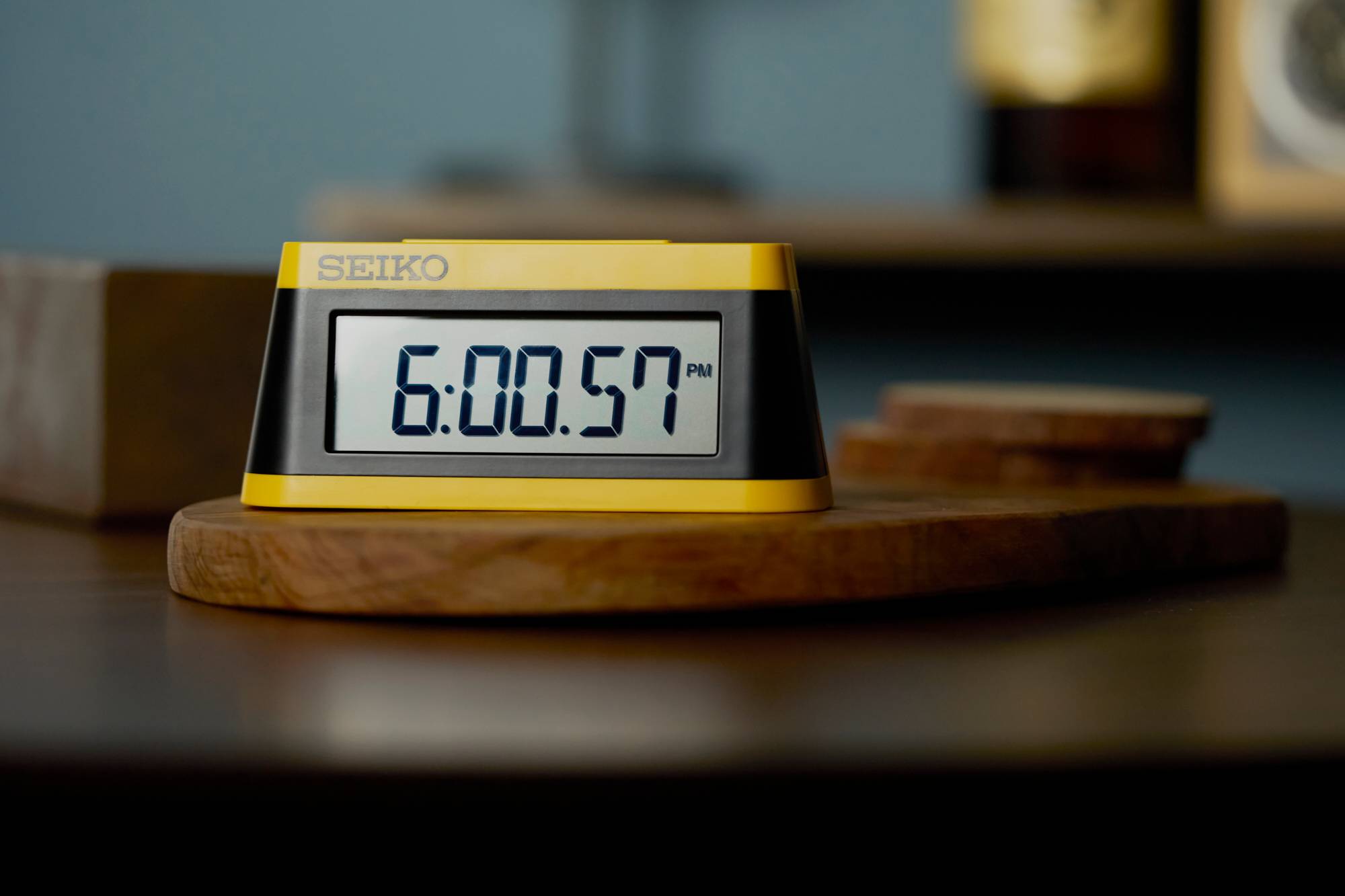 Seiko's take on a marathon timer1
Modern Marathon Alarm Clock
Email Me When Available
Item no longer available
Finish selections for price & availability
Free shipping over $100 USD to the US, $150 CAD to Canada, $600 USD to the rest of the world
Seiko
Modern Marathon Alarm Clock
Seiko's take on a marathon timer1
Email Me When Available
Item no longer available
Finish selections for price & availability
Free shipping over $100 USD to the US, $150 CAD to Canada, $600 USD to the rest of the world
Introducing the Seiko Limited Edition Modern Marathon Alarm Clock, an alarm clock for the sports enthusiast among us.
It's a unique alarm clock inspired by a marathon timer and is a replica of Seiko's professional timer in yellow and black. This limited edition collector clock offers a selectable alarm in 3 original sounds plus a countdown timer, stopwatch, automatic alarm stop, alarm with snooze function, calendar, and dial light. Makes for a perfect travel alarm as it easily fits in your luggage. And because of the unique shape and yellow trim, it will be hard to leave behind.

Dimensions: 1.89" x 2.32" x 5.12 "(W x H x L)
Batteries: 2 AA batteries (Included)
Materials: Time, Alarm, Snooze, Light, Calendar, Stopwatch, Countdown Timer
About Seiko
Founded in 1881, Seiko began as a humble jewelry and clock store and has since grown into the watchmaking juggernaut that it is today. If the technology for a watch they wanted to make didn't exist, Seiko made it happen under their own roof. Since Seiko is vertically integrated, they can customize nearly any part of their watches to their own design and specs in house. From the first true dive watch, to one of the first automatic chronographs, and completely new ways of powering a watch like Spring Drive, Seiko's list of horological achievements is lengthy. They've done everything all the way down to creating their own lab-grown and regulated quartz crystals for timekeeping.
Viewing:
Modern Marathon Alarm Clock