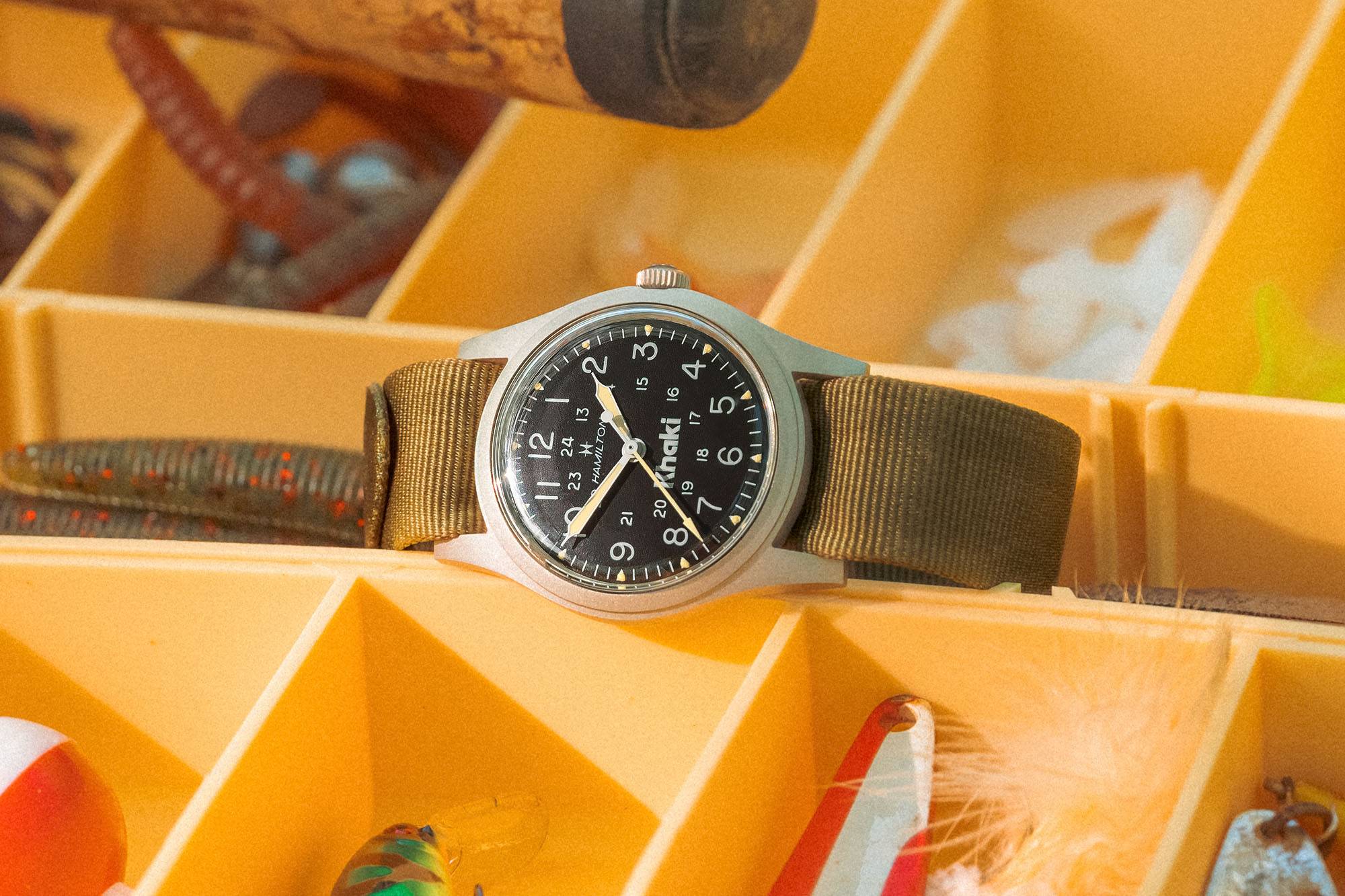 All original from the 1980s
Vintage New Old Stock Hamilton Khaki Field
Email Me When Available
Item no longer available
Finish selections for price & availability
Free shipping over $100 USD to the US, $150 CAD to Canada, $600 USD to the rest of the world
Windup Watch Shop
Vintage New Old Stock Hamilton Khaki Field
All original from the 1980s
Email Me When Available
Item no longer available
Finish selections for price & availability
Free shipping over $100 USD to the US, $150 CAD to Canada, $600 USD to the rest of the world
From the 1960s to the 1980s Hamilton manufactured watches that met the MIL-W-3818 specification issued in 1964. Issued to military personnel, these watches became the iconic mid-century "field watches" that have informed an uncountable number of watch designs since. In the mid-80s, once the military contract expired, Hamilton began producing its mil-spec field watch for civilians, and the Hamilton Khaki Field was born.
The civilian Hamilton Khaki Field maintained the same 33mm x 40.5mm case in matte blasted steel, with fixed 18mm lug bars and a domed acrylic crystal bringing the height to 10.6mm. Inside was the hand-wound 17-jewel Hamilton caliber 649 (ETA 2750). Held in place by a metal movement holder, it provided reliable timekeeping in the field and out.
We're incredibly excited to announce that we've been able to secure a lot of vintage new old stock (NOS) Hamilton Khaki Field watches from the 1980s in unused condition with original boxes and accessories from a military surplus store that was closing out. The watches look perfect. The cases are minty and unworn. The dials are crisp, featuring tritium lume aged to a pleasant cream color. Please note, though NOS, some aging has naturally occurred, so conditions vary between each watch as well as the straps and packaging.
All watches have been checked and are running, however, they have not been serviced. We are offering these watches in two different ways. 1. they can be purchased as is for $599 shipped immediately, and without a warranty. 2. they can be fully serviced by Grand Central Watch for $1,099 with a two-year warranty, shipped in 4 - 6 weeks. As these watches are around 40 years old, servicing will include fully disassembling, cleaning, reassembling, relubricating, and regulating the movements.

These vintage products are not being offered by, or sold in affiliation with, Hamilton Watches. When choosing the "Serviced" version of this watch, the product is refurbished and serviced by Grand Central Watch before shipping. The products are not covered by the original manufacturer's warranty. If a "Serviced" watch is selected, it is covered by the Windup Watch Shop Vintage Watch Warranty provided by Grand Central Watch which is detailed on the Warranties Policy Page.
If the non-serviced version of the watch is selected, no warranty is offered. The product has been tested by us to function but is not guaranteed to function on arrival to the final shipping destination. The Refund Policy Page further outlines the allowable reasons for return. These products are sold as-is.
Case: Matte Stainless Steel
Dial: Black
Movement: Hamilton caliber 649 (ETA 2750)
Winding: Hand-winding
Lens: Acrylic
Strap: 2x Nylon
Water Res.: 30M
Diameter: 33mm
Length: 40.5mm
Thickness: 10.6mm
Lug Width: 18mm
SOLD AS IS

Case: Matte Stainless Steel
Dial: Black
Movement: Hamilton caliber 649 (ETA 2750)
Winding: Hand-winding
Lens: Acrylic
Strap: 2x Nylon
Water Res.: 30M
Diameter: 33mm
Length: 40.5mm
Thickness: 10.6mm
Lug Width: 18mm
WINDUP WATCH SHOP VINTAGE WATCHES 2 YEAR WARRANTY THROUGH GRAND CENTRAL WATCH
Viewing:
Vintage New Old Stock Hamilton Khaki Field