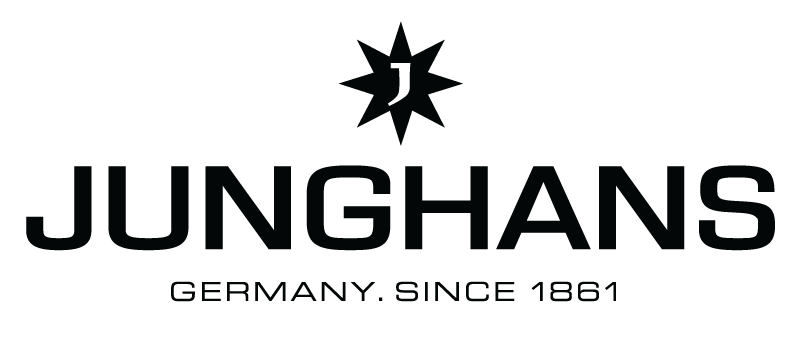 About Junghans
Since 1861, the town of Schramberg, Germany, nestled sleepily in the Black Forest, has been home to one of the greatest names in German watchmaking: Junghans. For over a century and a half, the brand has produced a stunning array of watches and clocks for almost every conceivable application, from egg timers to cockpit clocks for Bf-109 fighter aircraft, but today their collection is comprised mostly of a few lines of clean, design-oriented timepieces.
Junghans' style trends toward sleek minimalism, with a healthy dose of mid-century style to keep things unique and interesting. This shines through especially well in their Meister Pilot series, with a one of a kind scalloped rotating bezel based on the pilot's chronographs Junghans supplied to the newly reforming German air force, in the 1950s. The real star of the show for Junghans, however, is the Max Bill series, named after the eponymous Bauhaus designer.

featured junghans Watches
Spotlight on Max Bill
Swiss designer Max Bill has been a part of the Junghans legend since 1955, first designing clocks such as the iconic Junghans kitchen clock with integrated timer, before becoming lead designer for the entire company in 1961. Max Bill's beautifully minimal watches have stayed part of Junghan's catalogue ever since. Before stepping up to Junghans, however, Bill cut his teeth at the legendary Bauhaus school of design, entering the program in 1927 and studying under such masters as Walter Gropius, Wassily Kandinsky and Ludwig Mies van der Rohe.
The three base tenets of the Bauhaus: form must be simple, form must follow function, and mass production does not preclude an object from becoming art, were ingrained deeply into Bill's subsequent work, along with his own personal philosophy of "concrete art", or pure abstract form without natural reference becoming tangible to the common person. Through these principles and Junghans' exquisite execution, the Junghans Max Bill series stand as examples of wearable "concrete art" in their own right.

All Watches From Junghans
Load More