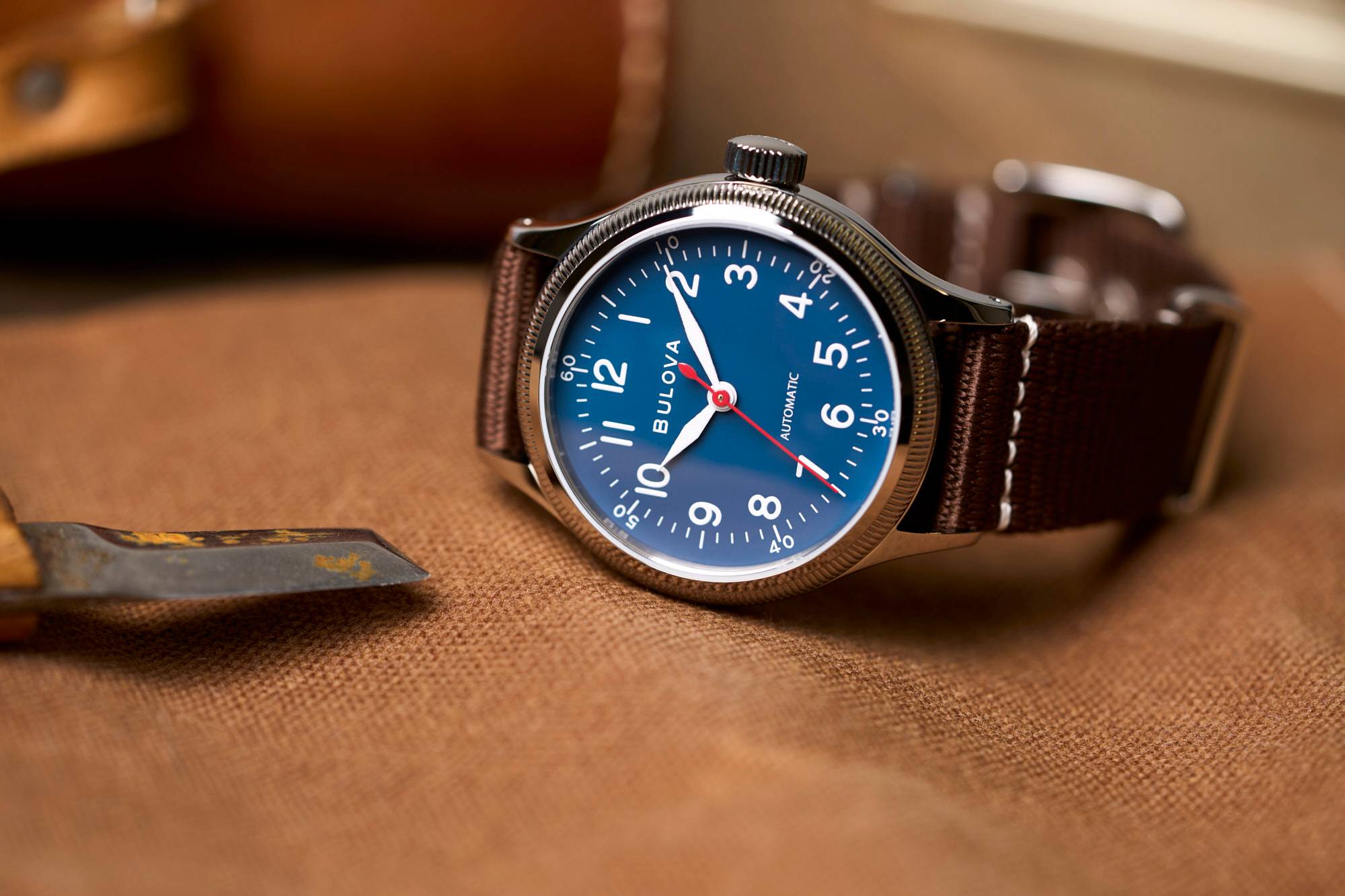 "The Watch That Won The War"
A-11 Hack Watch
Email Me When Available
Item no longer available
Finish selections for price & availability
Free shipping over $100 USD to the US, $150 CAD to Canada, $600 USD to the rest of the world
Bulova
A-11 Hack Watch
"The Watch That Won The War"
Email Me When Available
Item no longer available
Finish selections for price & availability
Free shipping over $100 USD to the US, $150 CAD to Canada, $600 USD to the rest of the world
The Bulova Military Collection pays tribute to the function-forward timepieces that Bulova produced for the United States Military during the middle part of the 20th century. The modern Bulova A-11 Hack reimagines the legendary A-11 field watch that was issued to countless soldiers and successfully used by the Allied forces during WWII. Known among collectors as "The Watch That Won The War," the Bulova A-11 is widely considered to be one of the all-time classic military-issued timepieces.
Representing a slight increase in size compared to the original model, the 37mm stainless steel case of the Bulova A-11 Hack features a lug width of 18mm and includes an oversized winding crown, drilled lug holes, and a distinctive coin-edge textured bezel. The highly legible dial is heavily based on the iconic design of the original A-11 watch; however, it now appears in a deep blue color with white luminous markings and a bright red seconds hand. Completing the watch is a brown nylon strap with metal-reinforced sizing holes and matching stainless steel hardware.
Inside the Bulova A-11 Hack watch is the self-winding Miyota 82S0 movement, which offers users reliable mechanical timekeeping and an ample power reserve of approximately 42 hours. Additionally, the "Hack" part of the watch's name is a reference to the hacking seconds feature that defined the original model, which allows the seconds hand to be stopped when the crown is pulled out for easy synchronization and time setting. 
Case: Polished Stainless Steel
Dial: Blue
Movement: Miyota 82S0
Winding: Automatic
Lens: Double Domed Mineral Crystal
Strap: Brown Nylon
Water Res.: 50 Meters
Diameter: 37mm
Length: 47mm
Thickness: 14mm
Lug Width: 18mm
Ref Number: 96A282
About Bulova
Founded in 1875, Bulova is an American watch company based in New York City that was one of the most prominent brands in the industry throughout most of the 20th century. A true household name, Bulova is credited with numerous contributions to watchmaking, including creating the world's first fully-electronic wristwatch using the brand's proprietary tuning-fork based technology. Bulova timepieces have been issued to members of the United States Military, used on 46 different NASA missions, and even worn by astronauts on the surface of the Moon. Since 2008, Bulova has been owned by Citizen Watch Co. and the company continues to operate out of its New York City headquarters, producing high-quality timepieces that honor the brand's remarkable and diverse history.